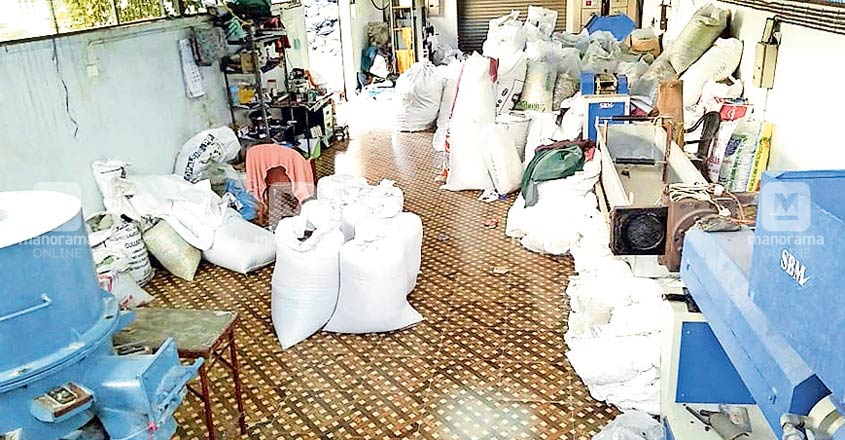 Adimali: Creation of ample facilities for processing of plastic waste is a challenge as formidable as reducing the use of the environmentally hazardous material. Kerala has taken significant steps to curb plastic use and collect its waste. Local self-government bodies are in the forefront in this regard though they are not self-reliant in terms of shredding infrastructure. As a way out, the facility of Adimali Panchayat in Idukkki district can now be used by other institutions that do not have own waste management facilities.
Recently, the shredding unit that is located next to the Adimali Panchayat received three loads of plastic waste from popular tourist destination Munnar. The Vellathooval Panchayat too brings its sorted plastic waste to this facility. Besides these, other institutions are also bringing their plastic waste to the Adimali facility.
Adimali Panchayat is willing to accept plastic waste from panchayats and other institutions that are finding it difficult to process plastic waste.
"We are ready to accept any amount of plastic waste from other panchayats and establishments in the district," said panchayat president Deepa Rajeev and secretary K N Sahajan.
The shredding unit was established one-and-a-half years ago as part of the panchayat's waste management plan. The shredded plastic waste is used for tarring of roads. Besides, plastic granules are sold to factories that make pipes and hoses.
Sold at a rate of Rs 21 per kg, 260 quintals of tarring mixture have been sold in the past one-and-a-half years. This order mostly comes from Kochi Corporation, and the offices of the Public Works Department in Njarakkal, Santhanpara and Painavu.
The plastic granule mixture is available for Rs 45 a kg and is sold through a tendering process. At present, the panchayat has a stock of five quintals.
Those interested in availing the shredding facility or buying shredded plastic waste or granule mixture may contact the panchayat office at 04864-222160 (office) or its secretary at 94960 45013.