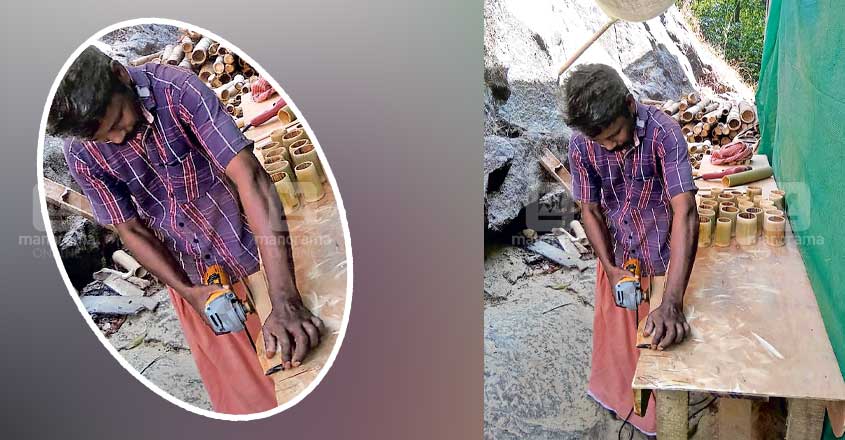 Thodupuzha: Tea, coffee and other refreshments are served in cups made of bamboo at the Kallical tribal hamlet at Uppukunnu in Kerala's Idukki district. The indigenous people use cups, trays, kitchen stand, spoon and ladles all made of bamboo. Of the 70 families at the hamlet, 60 use bamboo or other eco-friendly products.
The bamboo cup would last for one year. When the cup becomes nonusable, throw it into the earthen stove and thus it could be returned to the nature.
These bamboo products are promoted by the Kudumbashree unit, named Mulagramam (bamboo village), functioning in the hamlet.
The Mullagramam stall at the Karshikamela of the Haritha Kerala Mission is registering record sales. Around 140 products are kept at the stall. The office-bearers of Mullagramam P V Sunil, Janardhanan and Ratheesh are elated to note that they have sold most of the items at the stall.
In the wake of the ban on single-use plastic in Kerala, the district Haritha Kerala Mission took stock of the eco-friendly initiatives and Mulagramam made it to state list.
The Kerala Institute for Research, Training and Development Studies of Scheduled Castes and Scheduled Tribes (KIRTADS) had imparted training to 19 women at the Kallical hamlet months ago, leading to the formation of Mulagramam.
The Mulagramam functions out of a rented building in the hamlet. It takes lot of effort, hard work and dedication to make these bamboo products. Just to make one bamboo cup, it would take 28 days, according to Sunil.