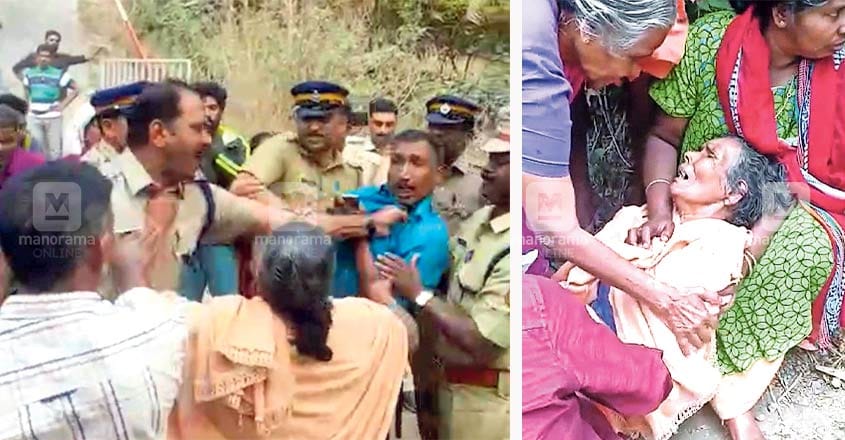 Nedumkandam: An 85-year-old woman was among those injured after a police officer allegedly used brute force on local residents who blocked tipper lorries coming from a quarry at Aliyar in Koottar area of Kerala's Idukki district.
People alleged that Kambamettu Station House Officer (SHO) G Sunil Kumar attacked them as they blocked the lorries transporting rubble from the quarry. 
Aliyar native Kamalamma, 85, her son N C Reji, 47, and T T Ajeesh, 27 were injured in the melee and sought treatment at the Nedumkandam taluk hospital. 
When the SHO attacked Reji, his elderly mother tried to intervene and the officer stamped on her, as per the complaint.
TT Ajeesh, who tried to record the incident on his mobile phone, was allegedly slapped on the face by the SHO. The complaint also alleged that the police destroyed the mobile phone of Santosh, who too tried to record the events.
They have decided to file complaints to the Kerala Chief Minister, Director General of Police and Human Rights Commission.
The quarry trouble

Locals said that there were finding it difficult to live in the area due to the quarry that has been functioning for years. 

The quarry in the area starts functioning by 5am, and the whole area would be engulfed in dust in addition to loud noise. Even students preparing for the SSLC exams cannot concentrate on their studies. 
Ten newly constructed houses and a water tank have developed cracks.
Permission has been granted for taking 10 tonnes of materials from the quarry every day. However, residents nearby alleged that more than 120 loads are being illegally taken out every day. 
As people blocked the lorries, police were called in. By 7am Kambamettu cops arrived in a jeep, followed by the SHO at 10am. The situation turned volatile as the police started using force. 
However, the SHO has denied the allegations. 
"The quarry is functioning as per the court order. The police merely tried to prevent the local people from blocking the road. During this time, local people manhandled a cop. Apart from this, there are also complaints of threatening the quarry owner and trying to take a bribe of Rs 15 lakh," he said.
A case has been filed against four people over the incident, the SHO added.