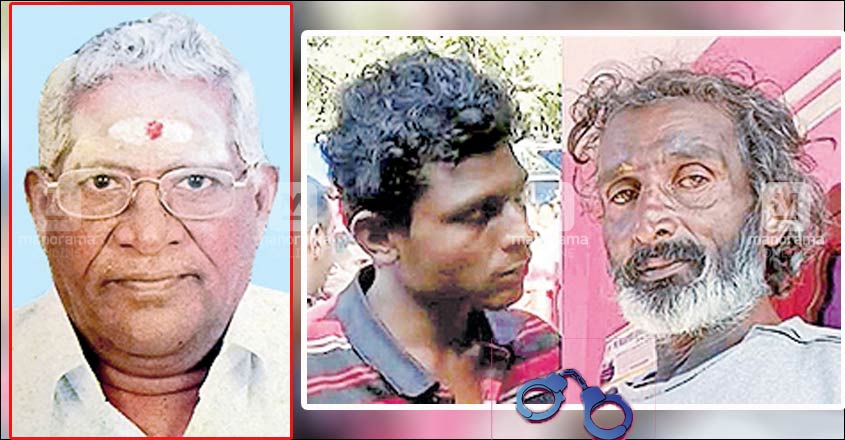 Marayoor: The body of a 70-year-old astrologer was found stuffed in an abandoned sack at Marayoor in Kerala's Idukki district. The police have arrested a friend of the deceased and an Erumely native over the incident.
The victim was Mariyappan. His daughter Usha Thambidurai is a local Congress leader. She is the current panchayat member. and former panchayat vice-president.

The sack with the body was found near the electricity office at Marayoor around 6am on Monday. A Mithun, 26, of Erumely in Kottayam, and Anpazhakan, 65, of Marayoor were the arrested.

Mariyappam, who reached Marayoor around 3:30pm on Sunday, went first to his friend Azhakappan's house as usual. Mithun, a carpenter, who was staying on rent there, was also present.

The trio had drinks together and slept by 9pm.

Mithun, who woke up around 1am, asked Mariyappan for money to buy alcohol. However, when Mariyappan refused to give money, they got into an altercation. In the ensuing fight, Mariyappan was killed, according to the police.

Mariyappan fell on to the floor after he was hit by Mithun, who then stabbed and hacked the elderly man with a knife. There were 28 wounds on the victim. After ascertaining his death, Anpazhakan and Mithun dumped the body in the sack and abandoned it near the KSEB office, which is 200m away from the house.

After the local people informed, the police arrived and conducted checks.

Idukki district police chief P K Madhu too reached the spot. The police team led by Thodupuzha DySP K P Jose, Marayoor CI V R Jagadeesh, Munnar CI Reji M Kunniparamban, and Marayoor SI G Ajayakumar prepared the inquest. The dead body was moved to the Kottayam Medical College Hospital for autopsy.