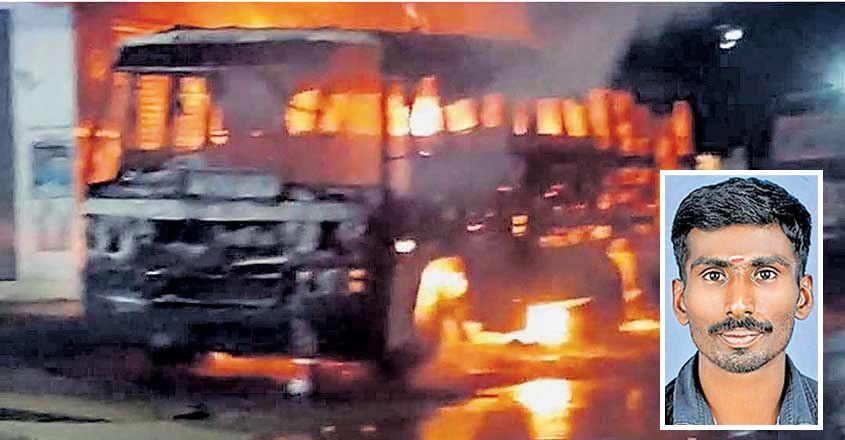 Kumily: A 23-year-old man, who was sleeping inside a private bus, was charred to death after the vehicle caught fire at Kumily in Kerala's Idukki district.
The deceased was identified Rajan, cleaner of the bus. The bus, which conducts services along Kumily-Pashuppara route, was gutted in the fire. The bus was parked by the wayside near a petrol bunk. However, a huge tragedy was averted as the fire did not spread to the diesel tank of the bus.
Nearby buildings suffered partial damage in the fire incident.
The police and the public contained the fire and prevented it from spreading. Finally, the blaze was completely doused due to the combined efforts by fire force personnel from Peermade and Kattappana.
As per preliminary findings, the fire could have been spread from a discarded cigarette or dangling electric wires. The police have also collected visuals from nearby CCTV cameras.
The bus, that starts service from Kumily, is usually parked near the Chelimada petrol bunk. The bus crew have been allotted a room next to the petrol bunk. However, bus cleaner Rajan usually sleeps inside the bus.
The crew, who were awakened by a ruckus around 2am on Monday, saw the bus engulfed by flames. Hearing their screams for help, the public too rushed to the spot.
Only after the fire was completely doused, the vehicle was checked and the Rajan's charred body was found. The body was moved to the Kottayam Medical College Hospital for post-mortem.
Son of Elappara natives Palrajan and Susheela, Rajan was a bachelor.
Sabotage?
The police would also probe the suspicion that the bus was deliberately torched to attack the cleaner. As per preliminary finding of the post-mortem, Rajan's skull was fractured.
Idukki district police chief P K Madhu, Kumily CI V K Jayaprakash, sub-inspectors Prasanth P Nair and V Santhosh Kumar visited the accident site. The forensic team from Kottayam also conducted checks.