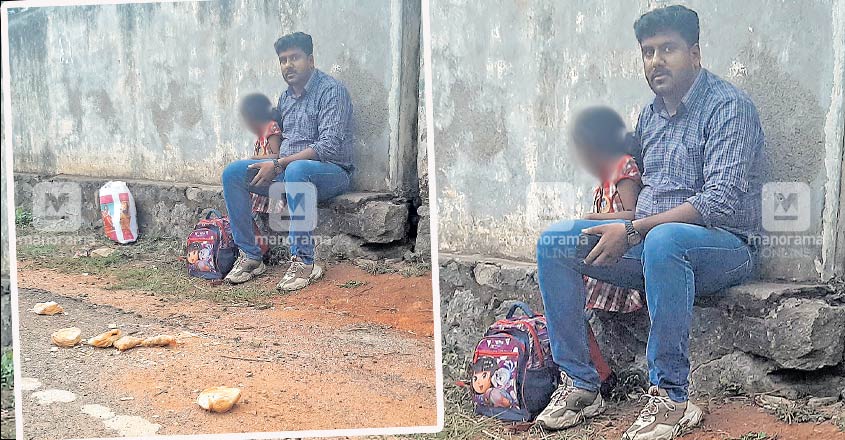 Nedumkandam: A 29-year-old man has alleged that a police officer threw away the snacks he had brought for his little daughter and seized his two-wheeler for no apparent mistake from his part.
The father-daughter duo staged a sit-in by the roadside for two hours to protest the alleged police atrocity. The incident was reported outside the VHSE School at Nedumkandam in Kerala's Idukki district.
Philip Abraham (Prince), a native of Nedumkandam, has filed the complaint.
Philip stated that he was waiting for his daughter, an LKG student, outside the VHSE school around 3.30pm on Monday. He said that he came to school every day to take his daughter back home.
"I came to the school on my friend's bike yesterday. While I was seated on the bike, the Nedumkandam CI C Jayakumar arrived at the spot. He asked me something, while seated in the vehicle. But I did not hear the question properly and asked, 'What did you say, sir?'
"However, the CI got angry over my question and got out of the vehicle. He grabbed the snacks I had bought for my daughter and threw them on the road," Philip said.
"Then he summoned a police personnel from the station and took away the bike. Though I showed him my ID cards, he refused to give back the vehicle," he recounted.
Philip also said that he would file a complaint to the district police chief and in court.
However, the cop has denied the allegation and said that the bike was seized as Philip did not have the necessary documents.
"I reached the area to take part in a student police cadet meet at a nearby school. I merely questioned him for coming in a bike to the school without wearing a helmet," the CI said.
"There were complaints that the police were not taking action against people coming to school in two-wheelers and loitering around," he added.