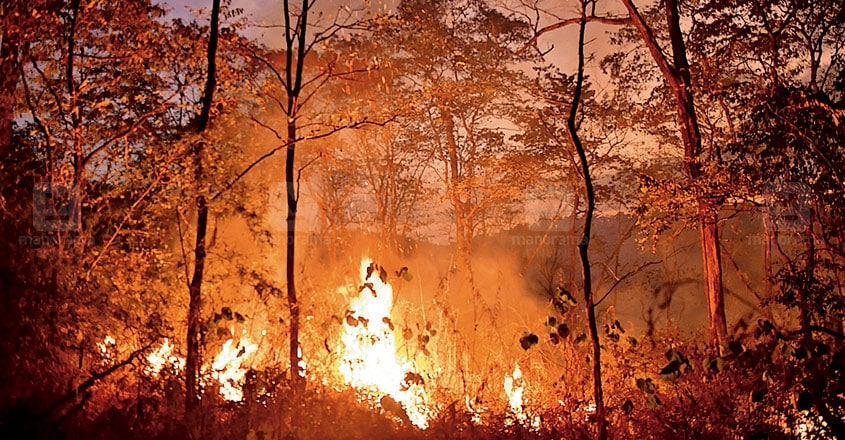 Rajakumari: A 37-year-old woman and her three-year-old daughter were charred to death in a wildfire as they walked along the forest path to enter Tamil Nadu from Kerala after travel restrictions were imposed due to the COVID-19 outbreak.
The incident happened at Vannanthurai near Rasingapuram in Tamil Nadu around 5.30 pm on Tuesday. Vannanthurai is 15 km away from Kurangani, where 23 people were killed in a wildfire in 2018.
The deceased in Tuesday's incident were identified as Theni native Jayasree, a plantation worker, and her daughter Krithika. They were part of an eight-member group of plantation workers who worked at a cardamom plantation near Shanthanpara in Kerala's Idukki district.
After Tuesday's work, they walked through the Njandarmettu forest range to return to the neighbouring state when they were caught in the wildfire. The other six also sustained injures and were admitted to the Theni Medical College Hospital.
The injured were Vijayamani, 38; Mahesh, 27; Yogesh, 30; Onduveeran, 40; Manju, 27; and Anand, 28.
After both Kerala and Tamil Nadu were put under lockdown to contain the COVID-19 spread, the police had imposed travel restrictions via Bodimettu in Idukki district. Due to this, the group of workers walked through the forest path via Pethotti, Dalam, and Njandarmettu to reach Tamil Nadu. The group were caught in the wildfire about 10km away from Thevaram.
The authorities were informed about the accident after one of the workers called up a close relative over the phone.
Wildfire tragedy after two years
Twenty three people were killed in a wildfire at Kurangani in Theni district on March 11, 2018. The victims, from various parts of Tamil Nadu, were trekking in the forest when tragedy struck. After the incident, the Tamil Nadu government had imposed strict restrictions on entering the forest regions. Still, people continued to illegally take the forest path to cross over to Tamil Nadu and Kerala.