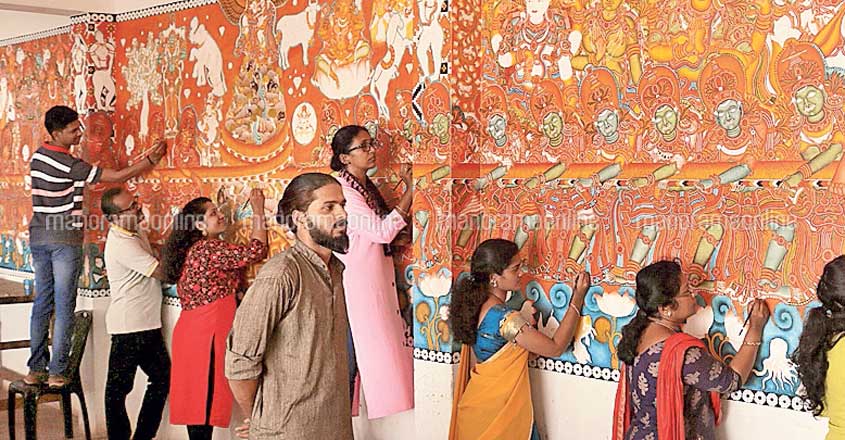 Mahe: Northern Kerala is set to get its biggest mural as a 12m x 3.5m acrylic work is reaching the final stages of its making on a wall of a renowned arts and cultural centre in Malabar. Sharp lines, bright colours and intense expressions define the character of the fresco that will be ready in a couple of months at the quarter-century-old Malayala Kalagramam.
A total of 16 students across age groups have been working for 12 years on the mural profiling the famed Hindu mythological event Palazhimathanam in which several divine beings join to churn out the elixir called 'amrit' from the cosmic Ocean of Milk (Palazhi).
The artwork typifies the Kerala genre of frescoes known for their bold strokes and definite hues that add to the heavily ornate characters with stylised looks overall.
The painting, which is set for completion in January, has a specialty: it portrays almost all the gods and goddesses engaged in the Herculean act in which the Mandara Mountain is used as the churning rod and serpent king Vasuki as the rope. It is also unique as the work features the great seven sages called Saptarishis and the eminent gurus mentioned in the Puranas.
The artwork, which also figures the fish and wild animals mentioned in the ancient tomes, will also be a textbook for contemporary and future students interested in Kerala murals, according to Nabin Raj, who heads the mural department of the 1994-founded Kalagramam in Kannur district.
The artists involved in the work include K Rahul, K Jayasree, K B Reena, P Salna, A K Devapriya, Dhanya Ajay, Manoj, Sheeja, Sudeep, Krishnan, Priya, Gangadharan, Shani and Bijitha.