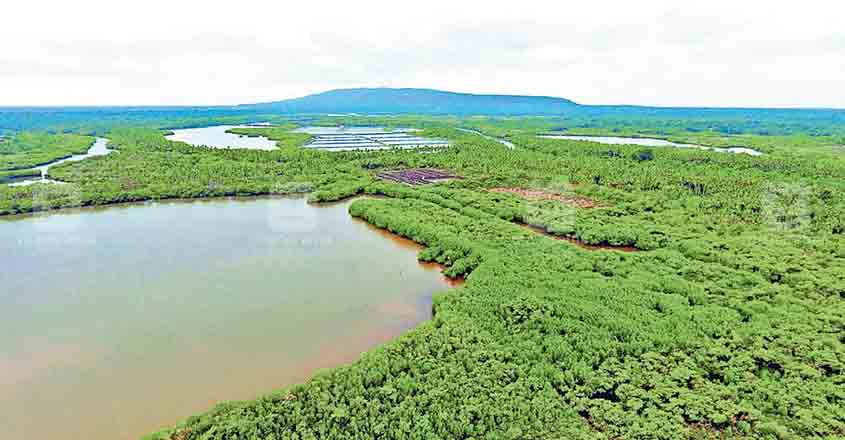 Payyanur: Mangroves help to protect shorelines against waves and prevent erosion, maintain quality of water and increase fish wealth. Many realised the importance of mangroves when the 2004 Indian Ocean tsunami battered the shorelines even in Kerala. The thick mangrove vegetation was instrumental in blunting the sheer power of giant tidal waves, and thus easing the attempt of those residing near shorelines to move to safer places.
The Kunjimangalam Panchayat near here in Kannur district is treading a unique path in protecting the mangrove vegetation in its area. As part of the efforts to conserve these shrubs that have great ecological importance, various individuals and organisations have bought 31 acres of land with mangroves.
The Forest Department also joined hands with the public, who had purchased the precious piece of land, in protecting the mangroves. The department also declared the 31 acres of land bought by the individuals as reserve forest.
Many green activists and agriculture-based organisations such as 'Ore Bhoomi Ore Jeevan', 'Kripa Palavaysl' and 'Karshaka Mitra' bought 3.03 acre land with mangroves near Perumba River at Edatha in 1998. After efforts were taken to protect this land, 4.04 acre of land with mangroves were also purchased in the next year, and the Wild Life Trust of India under the aegis of Dr P S Easa bought close to 22 acre of mangrove land since 2008. After this, the Forest Department took over the mangrove forest and declared it as reserve forest.
Kerala has a mangrove forest cover of 17 sq km, out of this 8 sq km  are in Kannur district, and the Kunjimanglam panchayat boasts of 1.5 sq km of mangrove cover. This panchayat is one of the rare places in the state where mangrove trees are not destroyed.
Students from various parts of the state visit the mangrove forest at Kunjimangalam panchayat as part of their research and project works. The forest has rare varieties of mangroves and facilities to help students undertake their study tours.