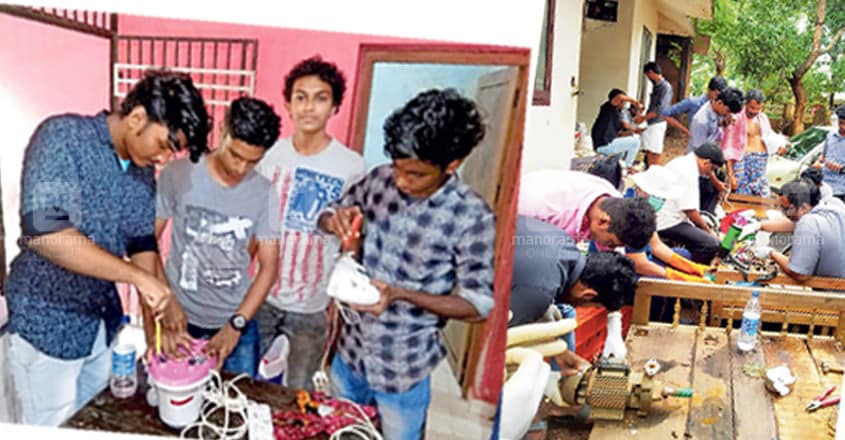 Kannur: Helping those in distress is a virtue. And what if you also get a chance too to put into practice what you have learnt at the college while helping others? Double delight, is the answer given by members of the Naipunya Karma Sena, which comprises students of Industrial Training Institutes (ITIs).
Last year they helped out the flood-affected areas in Chengannur and Ernakulam, while this year they went to the northern district of Kannur. They were able to rectify the equipment of 492 houses in a week.
The students repaired TV, fridge, and motors that had been rendered dysfunctional after getting submerged in the floodwaters. They also helped in carpentry works on doors, windows and furniture. They found that the doors were crumbling after the constant exposure to water. 
The youth volunteered to take up tasks that would have cost quite an amount of money for the house owners. The selfless service of Naipurnya Karma Sena truly came as a blessing to these people.
More than 100 students had turned up at the flood-hit areas of Chengalayi, Sreekandapuram, Valapattanam, Chirakkal, and Malapattam in Kannur. Around 35 teachers too accompanied the students, leading from the front. As students started to leave the houses after finishing the tasks, the house owners struggled to come with words of praise and gratitude.
Haritha Kerala Mission looks over the functioning of the Naipunya Karma Sena. M Pavithran is the district coordinator, while Kannur general ITI principal is the nodal officer. Students and staff of ITIs at Pinarayi, Madayi, Kannnur Vanitha, and Kannur general are part of the mission.
After spending an entire week at the flood-hit areas, the Karma Sena members turned up at their homes as per the requirement. As the classes have started, their activities have been temporarily stopped.