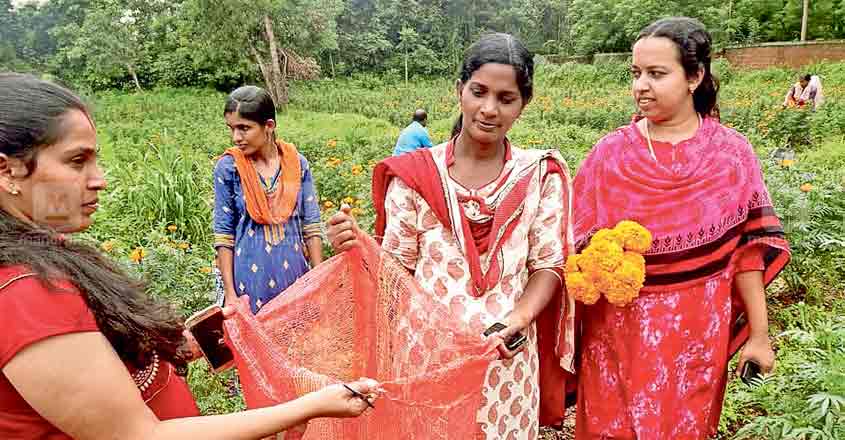 Kannur: With Onam now just around the corner, the district has sprung to life in revelry, and the air is filled with the fragrance of flowers. Unlike the previous years, people here are opting for locally grown flowers to make pookalams than those imported from Tamil Nadu and Karnataka.
The district panchayat and block panchayat officials needed to be lauded for their efforts in converting the district into a floral splendour. Despite adverse weather conditions, flowers blossomed across the region with the concerted efforts of farmers and agriculture officers.
The marigold flowers are in full bloom at Thillankeri, Kolachery and Narath under the district panchayat's 'Onathinnu oru kotta poovu' (A basket of flowers for Onam) scheme.
District panchayat president K V Sumesh said that close to 2 lakh marigold saplings were distributed under the aegis of the district panchayat. The saplings were given to farmer groups coming under Krishi Bhavan at 75 per cent subsidy.
Flowers are being cultivated at regions coming under Anjarakandy, Vengad, Pinarayi, Eranholi, New Mahe, Muzhappilangadi and Dharmadam Krishi Bhavans in Thalassery block. As many as 49, 950 saplings were planted in these places.
The hybrid seeds that were brought from Bengaluru were germinated at Palayad farm, and later the saplings were distributed to farmers, said Agriculture assistant director Vishnu S Nair.
Around 350 women, part of 71 groups, are leading the way in flower farming in the district. Orange, white and yellow marigold flowers are being grown. One plant produces 1.25 kg of flowers. The marigold plants bloom after 50 days and the plants, if reared properly, would produce flowers for five months. After Onam, the flowers would be put into value-added use such as making bouquets and decorating venues.
Flower farming was undertaken at places coming under Narath and Ezhome Krishi Bhavans in Kalliassery block panchayat. Close to 1,000 saplings were given to more than 50 women in 9 groups. Agriculture assistant director P Surendran said that the saplings were sourced from Palayad and Kangol farms.
Flowers were cultivated in Edakkad block at spots under the purview of Kolachery, Munderi, Peralassery and Chembilodu Krishi Bhavans. "Flowers are in full bloom at Kolacherry, but the heavy downpour had affected flower cultivation in other places," said Agriculture assistant director M K Padmom. Women groups comprising 5 to 15 members spearheaded the farming activities in these regions.