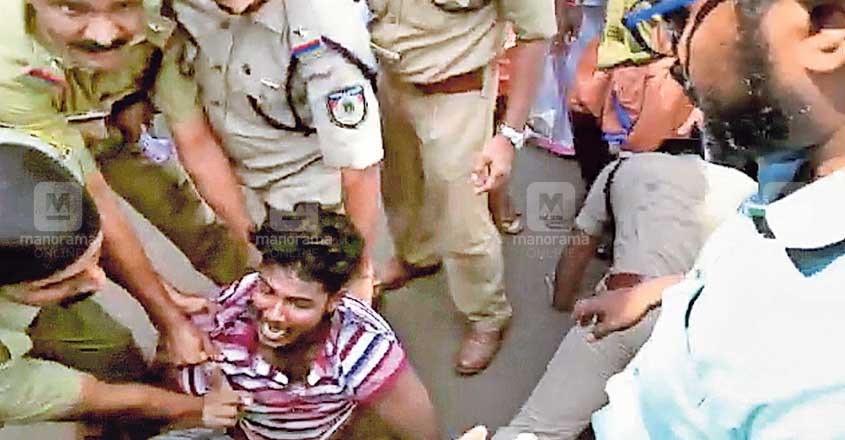 Valapattanam: The image of the Kerala Police has been sullied of late owing to several instances of high-handedness. Yet another over-bearing conduct of the cops led to a tense situation near Valapattanam in Kerala's Kannur district on Saturday. Four youth have been arrested after a trivial issue snowballed into a brief unrest.
The trigger for the chain of events finally resulting in the arrest was the halting of a police jeep on the middle of the road, causing a traffic block.
The incident happened at Alvil Pannerimukku around 11:30am on Saturday. The police stopped the official jeep in the middle of the road to impose fine on a person, who was found smoking in public. The Sub-Inspector summoned the offender to the jeep and levied fine from him. This caused traffic congestion in the area.
Pointing out the traffic snarl, B U Nishad, an 18-year-old employee at a nearby textile shop, asked whether the jeep could be stationed on the roadside and the cops were irked by his blunt suggestion.
Slighted, the SI asked Nishad to get into the jeep, but he refused to comply. When the cops tried to use force, local people intervened, leading to a scuffle. As the situation turned volatile, more cops were rushed to the area.
The situation eased after the local people said that they would allow Nishad to go in an autorickshaw to the police station instead of the jeep.
Three people accompanied Nishad to the police station. The police, however, detained all the four and recorded their arrest. As news spread, local people thronged the police station. But more police personnel were summoned and people were chased away.
The four arrested youths were presented in court and remanded. They are Kakkad native B U Nishad, the shop employee; K Navab, 32, U P Irshad, 32; and K Minhaj, 25.
They have been booked under non-bailable charges: IPC 353 (deterring public servant from discharge of duty), IPC 332 (causing injury to police personnel), IPC 323 (for voluntarily causing hurt) and IPC 341 (wrongfully restraining an individual from moving to a place).
The police claimed SI P Vijesh, ASI Rajan Kottamala, and senior CPO Gopalakrishnan sustained injuries during the scuffle and they have sought medical treatment.