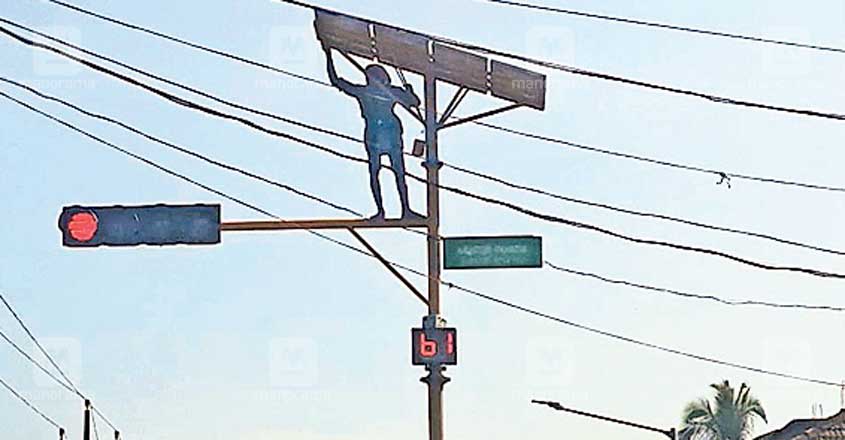 Payyanur: Promotion of solar power use has attained greater significance with increasing stress on reducing the use of fossil fuels.
Moreover, it makes sense to harness solar energy in areas facing a shortage of electricity derived from conventional sources. When the utility of a traffic signal in streamlining traffic can't be overestimated, a solar-powered one installed to ease the traffic woes at Payyanur in Kerala's Kannur district has become a model worth emulating as it completed a successful five-year run.
Traffic snarl was a major problem at the four narrow roads of the central bazar in the town in north Kerala. Though the police and municipality tried to resolve the traffic problem, there was no respite. Soon, installation of a traffic signal was mooted, however, this recommendation was not implemented as it was feared electricity-powered signal system could lead to accidents as there was no certainty of uninterrupted power supply. Then, the municipality sought the cooperation of the Keltron in Thiruvananthapuram.
The special team of Keltron subsequently conducted a study at the Payyanur and recommended to install a solar traffic signal system. However, the Keltron could not back its recommendation with any previous success story. However, based on the team's assurance that the project would be a success in Payyanur, the municipality allocated Rs 10 lakh for the project.
The traffic signal worked without any glitch and it functioned even during torrential rains. Not even a day was reported when the traffic signal did not function during these five years. 
Now, some repair works are being carried out for Rs 3 lakh.
The Keltron is implementing the solar-powered traffic signal system in south Kerala as part of its new project, aptly titled the Payyanur Model.