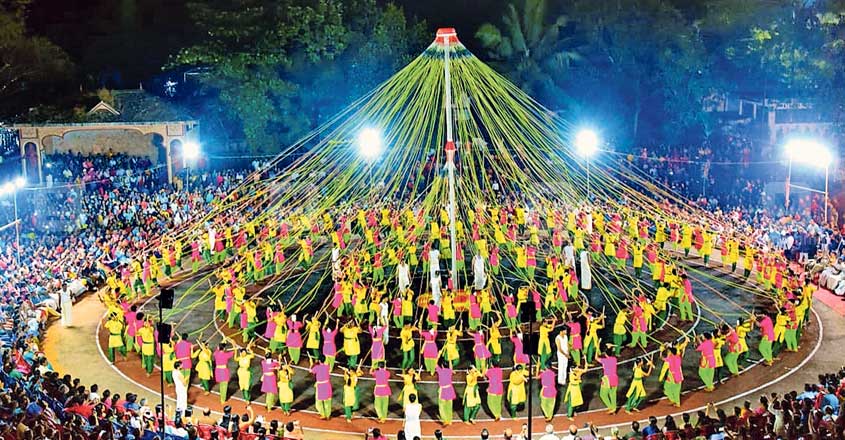 Payyanur: As many as 212 students joined hands to perform a folk art and walked their way into the Limca Book of Records. The students performed the traditional stick dance known as 'charadukuthi kolkali' to campaign against drug abuse.
Thousands of people gathered to watch the event, which was held at Payyanur in Kerala's Kannur district. The event also made it to the Universal Records Forum, Indian Record Book and Best of India Records.
NSS volunteers and student police cadets of the Shenoy Smaraka Government Higher Secondary School, Kandankali, took part in the unique campaign.
K Shivakumar, a veteran in the field, trained students of class 7 and 12 who took part in the event. 
The event was organised with the support of Kerala Folklore Akademi, Folkland Payyanur, excise department, Mahadeva Grama Kolkali group, and District Tourism Promotion Council (DTPC), Kannur.
T V Rajesh inaugurated the event, while municipal chairperson Shashi Vattakaval was the chairperson.
T A Madhusoodhanan gave away the prizes, while Sunil Joseph made the announcement on records. Prajeesh Kannan gave the certificates.
Block panchayat president M TP Noodeen, panchayat presidents M Raghavan, M G Govindan, P Usha, excise deputy commissioner P K Suresh Kumar, Folklore Akademi secretary Keechery Raghavan, Poorakali Akademi secretary K V Mohanan, Folkland director Dr V Jayaraj, tehsildar K Balagopalan, DySP T K Rathnakumar, principal P V Vinod Kumar, V Balan, P V Kunjappan, Indulekha Puthalathu, David Payyanur, and PTA president K Kamalakshna spoke at the event.