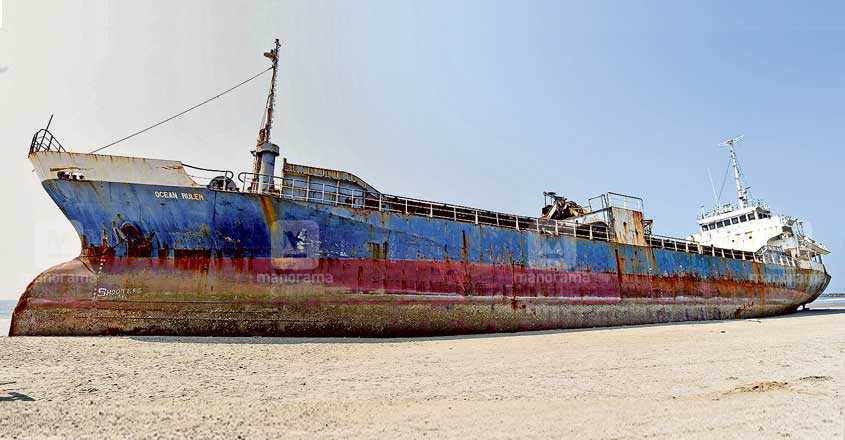 Kannur: The work to shift two Maldivian dead ships, which ran aground near Dharmadam and Azhikkal coasts near here, to the ship-breaking unit of Steel Industries Kerala Limited (SILK) at Azhikkal, is getting delayed.
The officials concerned had decided to move the stranded ships to the ship-breaking unit on January 6 but there was a delay on the part of the Kochi-based agency, which had been contracted to pull the grounded ships, to pave a channel for towing away the ships.
The ships, merchant vessel Ocean Ruler and fishing vessel Oivalli, weighing 500 tonnes each ran ashore after they broke from the tug following heavy torrential rain and strong wind that swept the region in August last year while they were being towed from Maldives to the SILK yard for scrapping.
Many organizations raised environmental issues over breaking the grounded ships at the SILK yard and the district collector had to soothe their nerves with the assurance that the vessels would be scrapped without any adverse impact on the environment.
The ship that ran aground at Dharmadam can be moved only after draining water from the vessel using pumps and plugging a hole in its hull. Though 18 water pumps of SILK were brought for the purpose, they developed glitches as the work was postponed for one reason or the other. Six water pumps were repaired and the remaining would be mended in three days, and the hole in the ship's hull could be plugged only after all the pumps are made operational.
Another reason for the delay is that the Kochi-based dredging company, which would be paving a channel to tow away the ship grounded at Azhikkal, will reach here only after three days. Though the dredging company workers came to Azhikkal earlier with their equipment, they returned to Kochi as there was an uncertainty over pulling the grounded ships.
But the SILK officials are confident that the ships would be towed away to the ship-breaking unit this week itself. There are concerns that vessels are polluting the sea waters near Dharmadam and Azhikkal coasts.