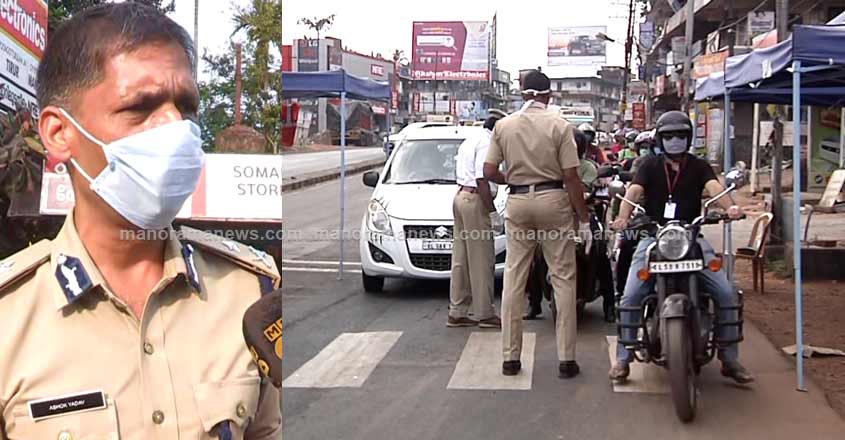 Kannur: The police in Kannur district had a tough time controlling the vehicles as many people, who were confused about the lockdown relaxation orders of the Kerala government, violated the traffic curbs and hit the roads on Tuesday.
Kannur district presently has the most number of COVID-19 active patients - 51 - in the state. Its neighbouring district, Kasaragod, once the worst-hit region in Kerala, has 27 active cases. Both districts are listed as red zones and have the most number of COVID-19 hotspots in the state. The district has been under strict lockdown measures ever since the lockdown was announced.
Long queues of vehicles were seen at various police checkposts, setup to check lockdown defiers. Roads in the district were busy since 7am on Tuesday.
Following this, Inspector General Vijay Sakhare directed the city police to take strict action against those violating the lockdown rules.
Meanwhile, Kerala Minister for Industries and Sports E P Jayarajan said that the people were confused about the lockdown relaxation and the misunderstanding led to the incident.
Necessary action will be taken by the police to bring the situation back to normal, he added.
On Monday, long queues of vehicles, including in hotspots, were witnessed as lockdown restrictions were eased in some places by the state government. However, the government soon rolled back some of its relaxations after the Centre's objection to 'dilution' of curbs.
The Centre shot off a letter to the state government, coming down heavily for its decision to allow opening of restaurants, bus travel in cities and opening of MSME units in urban areas, saying it amounts to dilution of the lockdown guidelines and also a Supreme Court observation.
Initially calling it a "misunderstanding" due to which the Centre had objected to easing of the lockdown protocol to control coronavirus, the government later decided to rollback some relaxations and Chief Secretary Tom Jose asserted the Centre and the states "are in this fight (against coronavirus) together."
Kerala, which announced relaxing some curbs on Sunday, had revised its decision to open up restaurants and MSMEs and operate public transport in 7 districts. It also decided not to allow plying of buses in cities and pillion riding on two-wheelers.