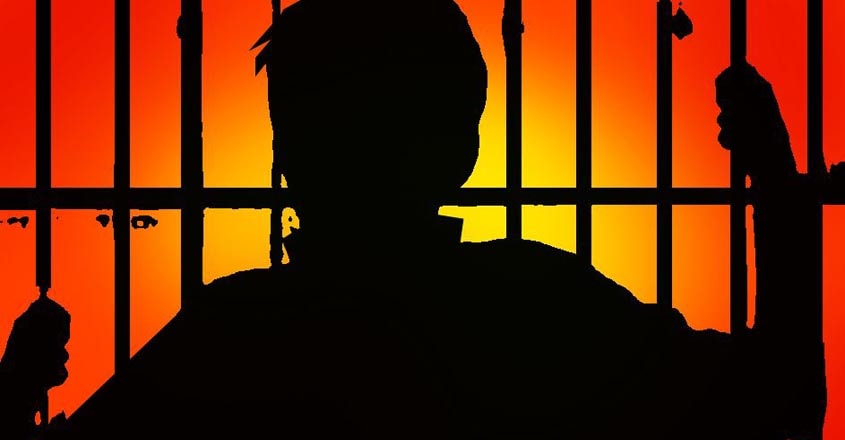 Kannur: An 18-year-old boy from Uttar Pradesh was taken into custody in Kerala's Kasaragod for stealing Rs 600.
The teenager who reached Kasaragod for a job, was forced to resort to thievery after being faced with joblessness and starvation. But he was caught red-handed and put behind the bars. The teenager managed to escape only to be caught again and was slapped with a second case.
Ajay Kumar of Himapur in UP has been remanded at the Kannur special sub-jail since then. Efforts are now on to send the teenager back home.
Ajay reached Kerala just before the COVID-19 lockdown was imposed. He worked as a cleaner at a hotel in Kasaragod. But even after one week of washing utensils, the hotel owner refused to him give any money. The teenager was then forced to beg on the streets of Kasaragod. But after lockdown, even that had to be stopped.
The teenager was left starving for two days. Desolate with hunger, the UP lad stole Rs 600 from a bank in the town. He was caught and sent to the quarantine cell at Kannur central jail. He escaped after four days but was caught again and slapped with another case over prison-break.
During this while, the jail authorities decided to grant bail to those imprisoned for minor offences in view of the COVID-19 crisis. However, there was none to help Ajay with the bail procedures in Kerala.
Jail superintendent T K Janardanan asked Ajay to contact his family in UP. But Ajay did not know the address or phone number of his family in north India.
Based on the information received from Kasaragod police, the Himapur SP was contacted. Ajay house was located but his relatives were in no position to help him. The services of an advocate at Kasaragod was sought by the jail superintendent and Ajay was granted bail.
But there are more hurdles before Ajay could leave prison. A personal surety bond of Rs 25,000 has to be furnished at the Kasaragod court. Also, bail has to be secured from Kannur too over the offence of prison-break. His family have said that they will somehow arrange for the money.
The 18-year-old is awaiting the day when he will be released from the prison and return home.