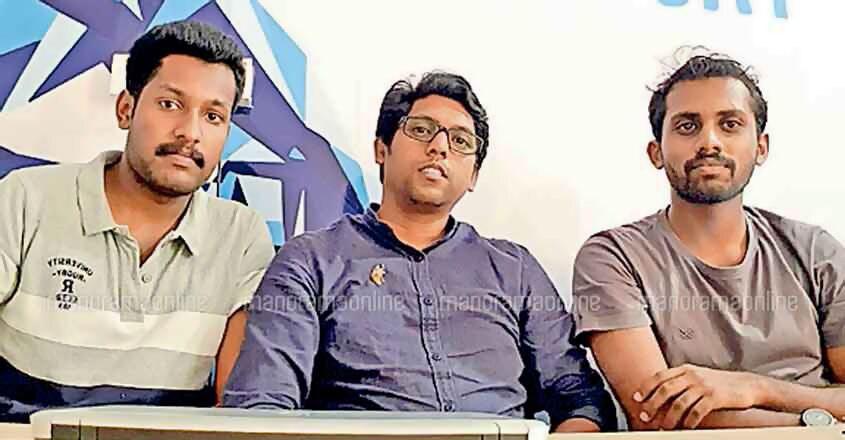 Kasaragod: A concept by a few youngsters here has been chosen as the best among new ideas that were conceived during the recent natural disaster in Kerala. The Fine Button, developed by engineers Abhilash Satyan, R K Shidin and Jithu Joy from Kasaragod, was among the three presented by nearly 15 stratups in south India at the Call for Code Kerala Hackathon organised with the support of Kerala Startup Mission Nascom and the IBM.
The Button can be installed in houses and used when all other modes of communication are down. A single click helps to send an emergency message for help.
The youngsters presented the idea on behalf of the Finext Innovation which works at the Kasargod Startup Mission Incubation Centre. Abhilash is a former student of Amal Jyothi Engineering College at Kanjirappally, while Shidin and Jithu had done engineering at LBS Engineering College, Thiruvananthapuram.
They are planning to install the Fine Button at every house in Kerala with the help of the state government. The system is co-ordinated with the help of an application based on artificial intelligence. When a message is received seeking help, its is marked on their location map (Rescue Flag). Every house will have a unique ID, apart from a registered mobile number and the number of people living there.
The family members or their friends can send a message through this system. Emergency medical care, food and water are among services that can be sought.
The software, supported by artificial intelligence and cloud computing, can co-ordinate rescue efforts swiftly and efficiently, taking into consideration the number of people caught in a calamity, the distance to the location, the number of rescuers and vehicles available and the priorities.
The Fine Button can work on a single cell battery for five to 10 years. The small equipment can be held in hand, and can be fixed on a wall too. It can send messages to 10-15 kilometres. Messages can be send even from under water or soil.