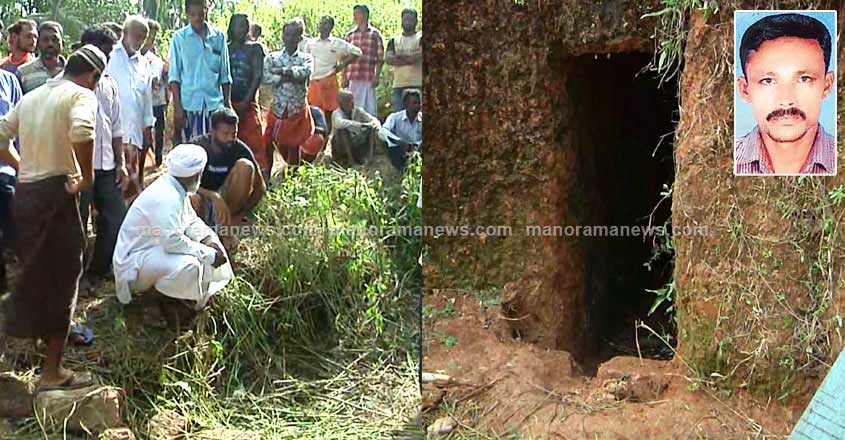 Puthigai (Kasaragod): A 42-year-old coconut plucker who went inside a tunnel well to catch a porcupine met with a tragic end. The body of Narayana Naik, alias Ramesh, could be taken out after 18 hours on Friday afternoon, although the body was spotted on Thursday night itself when he had met his end.
Narayana, son of Subbaiah Naik, was a resident of Posadi Gumpe, Bayar.
The accident took place inside the 26-m tunnel that was built to channel water that percolates through rocks.
The incident happened on at 6 pm on Thursday, when Narayana spotted a porcupine and went inside the tunnel to catch it. He had tied a rope to his waist so that he could be pulled out in case something goes wrong. He had told his friend that he would alert him in case of an accident and the latter need to pull the rope to bring Narayana to safety.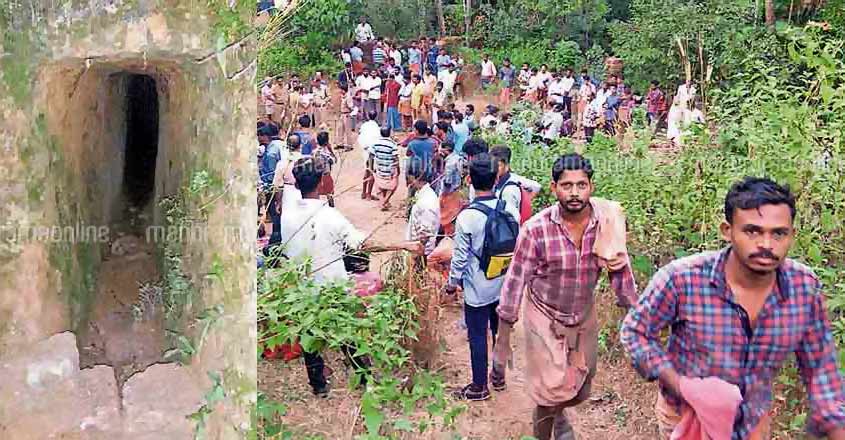 When Narayana was not seen even after an hour, his friend went inside the tunnel, but couldn't proceed as earth had caved in, blocking his path. He came out and informed the villagers. Fire force and police arrived at the spot, but rescue work was hampered as the tunnel was short of air. Rescue workers then wore oxygen masks and pumped in oxygen to the tunnel, but they could only spot the foot of Narayana and could not take out the body. The rescue operations resumed on Friday morning and the body was taken out by 4.30 pm.
Narayana is survived by wife Gayatri, children Chaitra, Chetan and Pavan and siblings Dinesh, Sathish, Lakshmisha, Sunanda and Sundari.
The rescue op
Though one can easily enter it, the tunnel tapers at the other end. On Friday, the rescue team was hampered by lack of space, oxygen and light. Four fire-fighters entered the tunnel but only three could go ahead. They could walk upright for about 10 meters but had to crouch later on. Ten meters later, they had to crawl to reach the body.
Initially they tried to tie the body to a rope and pull it out. But it didn't work because the body was buried in soil. Since they had confirmed Narayana's death, they stopped their operations at midnight and returned. They resumed on Friday morning and sought help from workers who knew about tunnels.
On their advice, they removed mud so that they could enter the tunnel easily. When the dugout mud was removed from the tunnel, they could walk inside though they had to bend. Since they could not take the breathing apparatus inside, an oxygen cylinder was taken in and had to be opened every 10 minutes for them to breathe.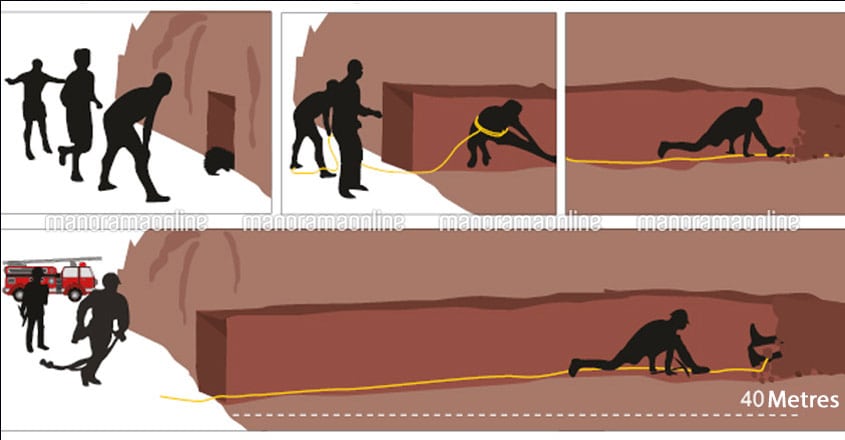 The rescue operation that started at 10 am stretched until 4 pm. They succeeded in bringing the body out by 4.30 pm.
Earlier tragedy
Ten years ago, three persons had lost their lives in a similar way at Dharmathadukka. They had entered the tunnel and smoked chilli power to catch a hedgehog when they choked to death.
Animal rescued
The porcupine was still inside the tunnel as rescuers approached. If it had attacked the team, they would have been helpless. But the animal too was exhausted. The team rescued it without any injuries.
The team members included station officer P V Prakash Kumar, assistant station officer Aji Kumar Babu, firemen P K Baburajan, C H Rahul, I M Ranjith, Akhil S Krishna, K Satish and A V Manoharan.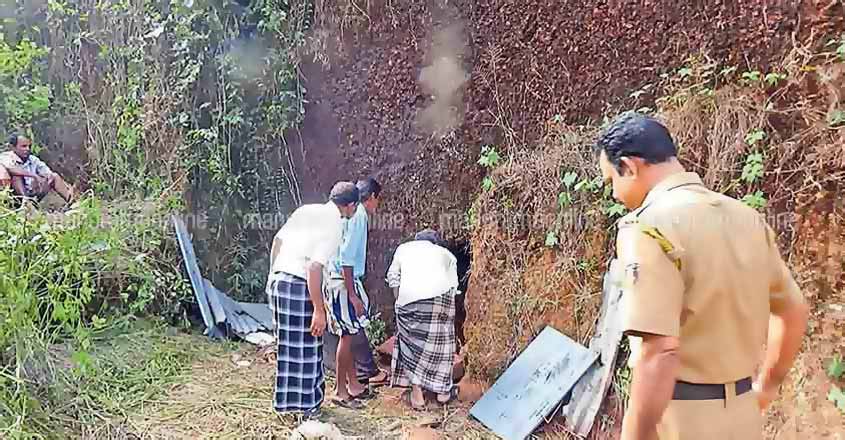 Water tunnels
Similar tunnels are common in Kasaragod and Dakshina Kannada in Karnataka. They are called 'suranga' and is dug horizontally in the slope of laterite hills until a water spring is found. It is part of traditional water management system that can provide water for drinking and irrigation purposes. Though a proper study has not been conducted, it is estimated that there are about 10,000 tunnel wells in the district. Though tunnel wells have given way to borewells, the old ones still exist. Some of them are unused now. Unlike a well, it is difficult to fill these tunnels.
The tunnel wells were used by Kasaragod natives long before the arrival of borewells. Providing water 24x7, these tunnel wells look simple from outside, but one needs to be careful once inside. Even after they are ready, the tunnels could become narrower due to cave-ins. Some could have turns too.
The height and width of the tunnel varies according to the size of the person who digs it. They are usually wide enough for one person to enter. Some tunnels are just three feet high. Tunnels are dug in wells too. The water thus obtained is considered to be the purest form of drinking water.
Tunnel length varies from 10 m to 300 m. The tunnel next to Sheni Shahdara School is the longest in the district. The tunnels are dug till water is found. If more than one person enters the tunnel and if a situation arises and they have to return, even turning back would be difficult. The deeper you go, the lesser will be the availability of oxygen.
Animals like porcupines, iguanas and crabs could disturb the flow of water when expert workers go inside to fix it. As water is available, people rarely venture inside a tunnel.