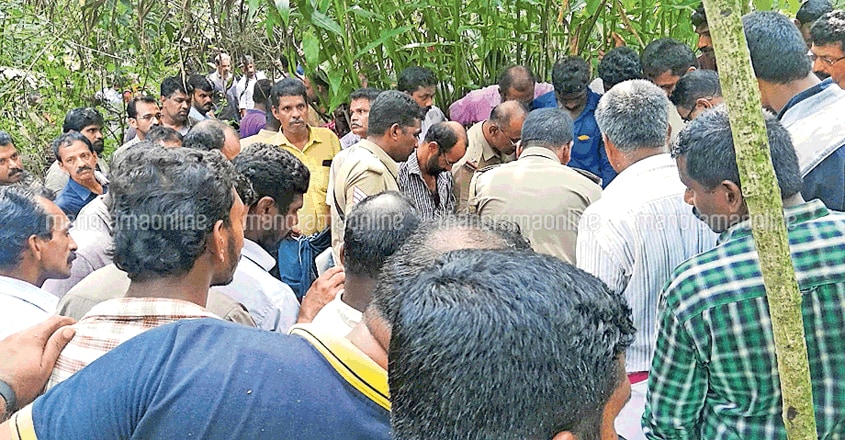 Chittarikkal: The entire valley here in Kasaragod district is grieving the death of a man inside the forests of Karnataka. A timber worker at Thayyeni, Thannikkal Kunju alias George was shot dead on Tuesday at Thanithattil in the Mundarote forest range in Karnataka.
It is believed that he was there with his friends to hunt wild animals when he was shot. His friends Chandran and Ashokan who was with him informed the police and residents about the death.
The duo told the police that the three of them were hunting when somebody shot at them. George's chest, stomach and hands have bullet injuries. There are bullet marks on trees from where the body was found.
Bhagamandala police took statements from those who went along with George. The accident spot is several kilometers deep in the forest. Though the death took place on Tuesday, police, forest officials of Karnataka and residents could reach the spot only by Wednesday afternoon. The police teams from Bhagamandala in Kodagu district and Chittarikkal in Kasaragod district accompanied.
After inquest, the body was carried by residents and police through the forest and then shifted to Pariyaram medical college for post-mortem.
The Karnataka police believe that George was shot using a country-made gun. It could be of those along with him or from another hunting group in the forest.
George and his friends left for Thanithattu in Mundarote range of Kodagu from Odapally in Palavayal, a 5 km distance, by 3 pm on Tuesday. Some people who went with him came back by night.
Danger zone
A man who had gone for hunting has been trampled to death by an elephant inside the Mundarote forest in the past. It is common for local residents to go deep inside he forest to collect forest produce. This is dangerous, say forest officials and cops.
Poaching rampant
Poachers and tree smugglers are having a field day inside the forest ranges of Karnataka. They have spread from Kerala forest border to deep inside the wild. The Mundarote range that is spread across more than 2,000 acres of forest has hundreds of sidecuts used by these gangs.
Declared by the Karnataka government as a wildlife sanctuary recently, this area has wild animals ranging from elephants to bisons. Though solar fencing has been set up to stop animals from venturing into human habitats, it is damaged at several places and wild animals frequently enter agriculture fields.
The poachers and smugglers have compounded the problem, forcing more animals to enter human habitats. Though there are restrictions on movement of tourists in the Kottancherry forest range, these gangs are having a free run. Tree smuggling is also rampant inside Karnataka forests. In such cases, when caught, usually poor workers are often made scapegoats.