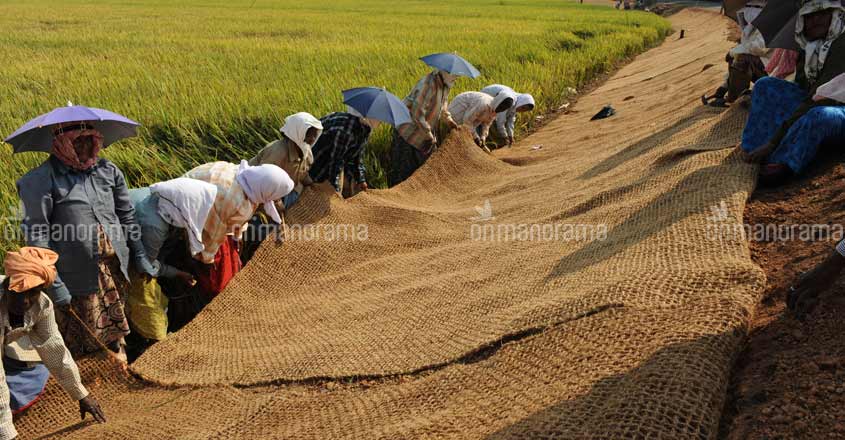 Nileswaram: The banks of the water channels in Madikkai panchayat here in Kasaragod district are being covered with coir mats to prevent erosion during the coming monsoon. The work is being carried with the erosion-control mats much before the summer intensifies.
The mat-laying is as part of a project envisaged to promote coir industries and increase the working days of coir labourers. Launched in 2017, already works costing Rs 19 lakh has been carried out in Kasaragod district during 2017-18.
The beneficiaries of the project are members of coir societies. As many as 10 panchayats in the district, including Madikkai, Kinanur and Karinthalam, are covered under the project during the current year. The project is being implemented in the jurisdiction of local bodies by Coirfed by linking it with the employment guarantee scheme.
The mats have already been laid over an area of 3,650 sq m on the banks of the seven water channels. An amount of Rs 2,37,250 has been spent for the mats and Rs 28,500 for other items, said Saseendran Madikkai, chairperson of the Development Standing Committee of Madikkai panchayat. The work is being carried out by labourers as part of the central employment guarantee scheme.
The project will be extended to more local bodies during the next financial year.
Geofabrics or geotextiles are widely used for streambank restoration and soil stabilisation. The coir mats are used for protecting water bodies as well as building bunds and ridges. They cost Rs 65 per sq m. Erosion-control mats will also be prepared as per requirements.