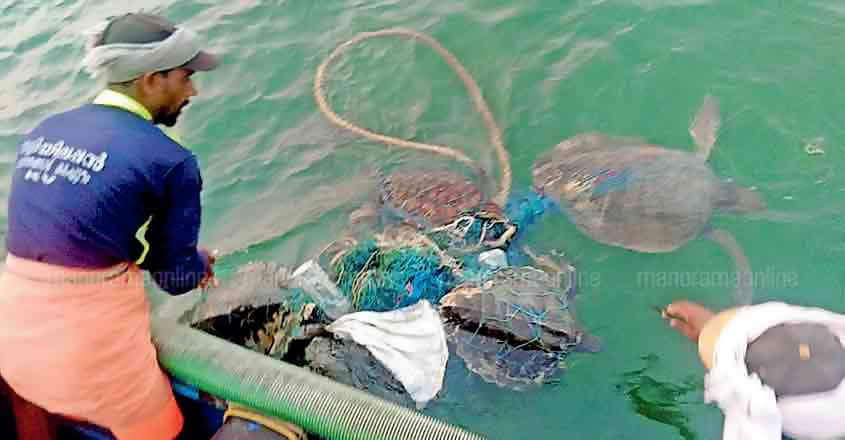 Neeleswaram: Seven sea turtles which were caught in the plastic debris left in the sea were rescued by the traditional fishermen of Neeleswaram in Kerala's northernmost Kasaragod district.
Seven olive ridley and hawksbill turtles were rescued by the fishermen who are residents of Thaikadappuram in Neeleswaram.
The fishermen painstakingly removed the pieces of fishing net that had got tangled up around the limbs of the turtles. The turtles had sustained injuries while attempting to get out of the plastic mesh that had entangled them.
Babu, Shaji, Sajeevan, Ganesan, Prakasan, Ramesan, Sajesh, Sujith, Akhilesh, Raghu, Vimalan, Suresan and Rajeevan were the rescuers.
Harmful practice
The fishing nets and other plastic used by people for unscientific fishing practices usually get abandoned in the ocean, creating death traps for the fauna including the sea turtles.
Some fishermen create artificial mounds in the seabed using plastic debris including bottles, covers and nets to lure fish for breeding. After fish congregate in large masses within these artificial rock-shaped structures in the sea bed, these fishermen arrive and make an easy catch using hand nets or scoop nets. The plastic debris which get abandoned once the team leaves, remain in the sea posing a grave threat to the marine environment.
The traditional fishworkers point out that hordes of dead sea turtles caught in these plastic debris can be found all over the deep sea near Kerala coast these days.
Even the turtles which are swimming ashore for laying eggs often die after getting caught in these abandoned fishing nets, pointed out P.V. Sudheer Kumar, activist of Neithal Kadalama Samrakshana Sanghatana, a Neeleswaram based non-governmental organisation that has been working for the protection of sea turtles.