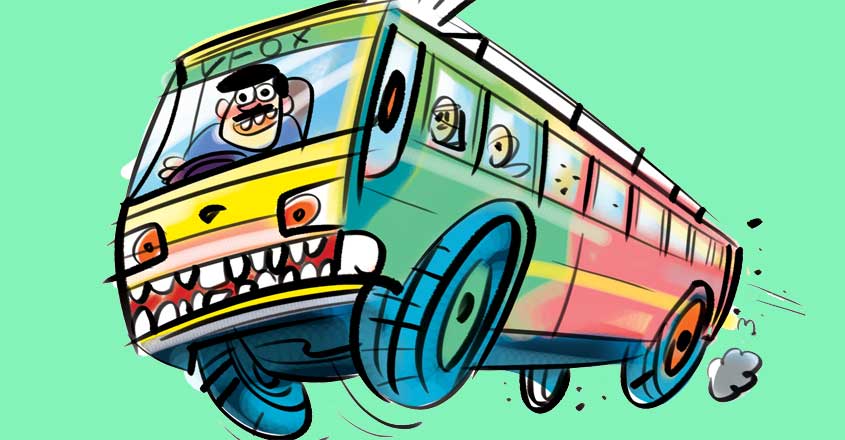 Nileshwaram: A bus operator has been asked to pay Rs 20,000 in fine for not picking up a passenger who had booked a seat online.
Kasaragod District Consumer Disputes Redressal Forum ordered SRS Travels on GT Road, Bangalore, to pay the compensation and court fee of Rs 3,000 to C Amburaj within a month of receiving the order.
Amburaj is the owner of Best Better Bakery at Nileshwaram and the state vice-president of the Bakers' Association.
Amburaj had booked a ticket for Rs 1,215 from Nileshwaram to Ernakulam on the night of September 16, 2018 to attend a Bakers' Association event the next day. A return ticket for Rs 966 was booked too. Calling on a number on the ticket, he was advised to wait at a bus stop at Cheruvathur, near Nileshwaram market junction, on 16th night. The bus that arrived around 11 pm did not stop despite waving it down.
The number was called again. The operators said the bus had reached 10 km ahead and they would wait for 3 minutes for him to catch up. Amburaj returned home since this was impossible. The association event was postponed to September 20.
SRS Travels representatives failed to turn up at the hearing held by the Consumer Forum.
No entry at stand
Buses do no enter Cheruvathur Bus Stand between 7 pm and 7 am. A homemaker was stuck in no man's land the other day as she was going to Pariyaram Medical College for treatment. The woman who boarded the bus at 6.30am from Nileshwaram intimated the conductor that someone will join her from Cheruvathur bus stand. Once it reached Cheruvathur, the conductor said the bus will not enter the stand since it will reach before 7am. When she said the other woman was waiting at the bus stand, she was made to get off the bus on the highway. Her treatment was affected too.
The bus stand is only 50 m from the highway, however the no-entry practice is bothering the public.
No action is being initiated even after informing several political leaders about passengers' difficulty.