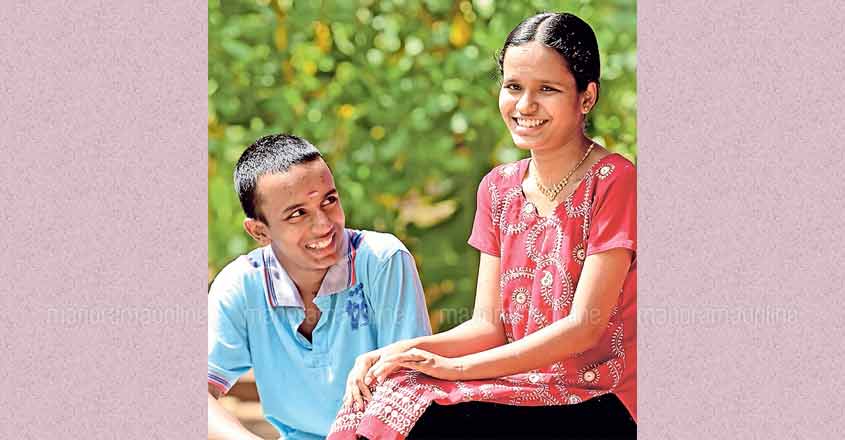 Mulleria, Kasaragod: The crucial final-year results of schools and colleges are being published now. The success tales of students are inspiring for the not-so-brilliant. Equally inspiring are the feats of students with disabilities and those from the less-privileged background.
Two siblings - Vishnupriya and her little brother Abhijin - from Kerala's Kasaragod district secured A+ in all the subjects in their the Class 10 examination despite their hardships. The stupendous performance of Vishnupriya stands out as she was born blind due to the effects of the infamous Endosulfan poisoning in her native place.
Vishnupriya was born to R Vishwanathan Nair and Ashadevi at Arladuka near Karaduka in Kasaragod district when the aerial spraying of Endosulfan pesticide was being carried out in the region.
The after effects of Endosulfan poisoning had rendered Vishnupriya blind at the time of her birth. Her father Vishwanathan, a carpenter, tried hard to give her the best of treatments but to no avail. The doctor, who heard the little girl singing, asked her parents to enroll her for music classes.
Vishnupriya won the first prize in singing competitions at the Special School Youth Festival on a trot from class 2 to 7. Even at the Kerala School Youth festival, she secured the first place with an A grade for three consecutive years.
Due to treatment, Vishnupriya had a delayed academic start, putting her in the same class as her brother at the GVHSS, Karaduka. Holding on to her younger brother's hands, Vishnupriya would go to school every day.
A nine standard student had written the exam for the visually impaired girl.
The Class 10 examination result of the Kerala Public Examination Board was declared a couple of days ago.