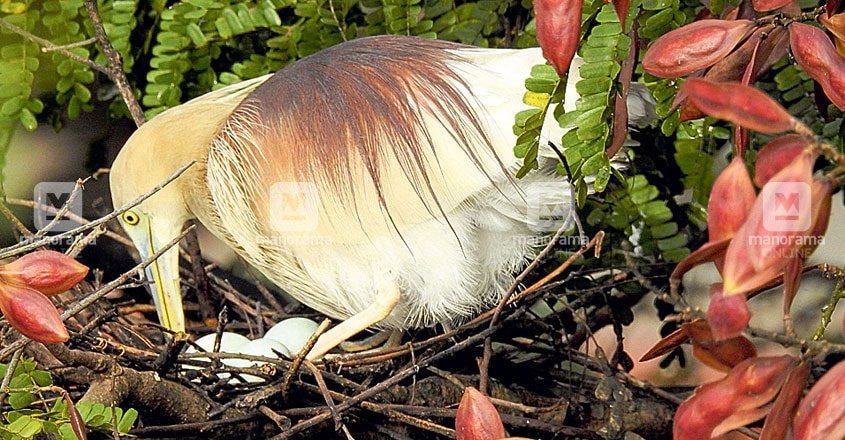 Kanhangad: Once nests of large colonies of birds were common in and around the waterbodies here in Kerala's Kasaragod district. The presence of colonial-nesting birds are indicators of a sound ecology. But of late there has been at least 25 percent falls in colonial nesting here, worrying ornithologists and conservationists.
Several species of waterbirds breed and nest in colonies atop trees within wetlands and near water bodies. According to a survey, there was a 5 percent decrease in colonial nests (kottilangal in local parlance) this year compared to last year.
The drop in colonial nests was a cause for concern, said wildlife researcher Roshnath Ramesh. It is assumed that inadequate summer rains and delayed monsoon had contributed to the decline in colonial-nesters. More over the trees that had been used by the waterbirds to build nests had been cut down in the name of development, and this has adversely affected the biodiversity of the region.
The waterbirds that breed and nest in the district are Little Cormorant (cheriya neerkakka), Indian Cormorant (kinnari neerkakka), Indian Pond Heron (kula kokku) and Black-crowned Night Heron (pathira kokku). This year 633 colonial nests were logged compared to 847 last year, a dip of 214 nests. The decrease in the number of colonial nests built by Indian Pond Herons raises an alarm. Around 390 nests of Indian Pond Herons were found last year compared to 200 nests this year.
The slide in Indian Cormorant's nests is also a cause for concern. Last year there were 142 such nests, but this year only 7 nests could be spotted in the district.
Meanwhile, the number of colonial-nests of Little Cormorants has increased compared to last year.
The survey of colonial nests, headed by Roshnath Ramesh, was conducted for social forestry by Malabar Awareness and Rescue Center for Wildlife. Assistant Conservator of Forest P Biju extended all help for the smooth conduct of the survey.