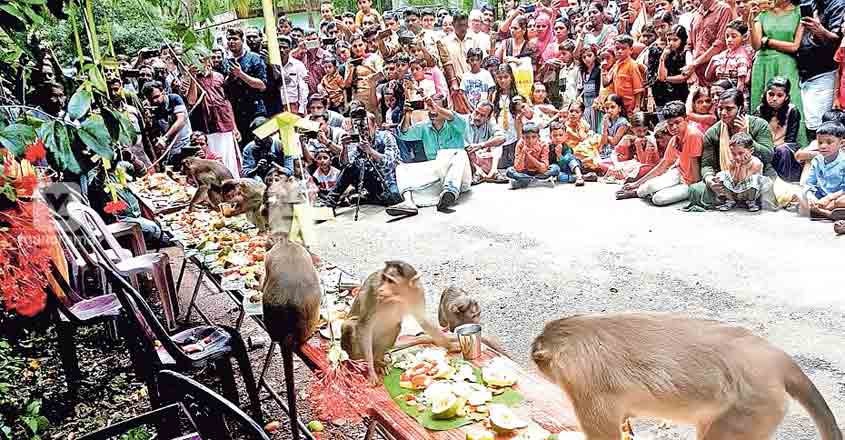 Thrikaripur: This is an annual onam feast with a difference. The guests arrive in troops, and then it is a melee. The guests are monkeys of the Idayilakadu kavu (sacred grove) and the hosts are the 'Balavedhi' of the Idayilakadu Navodaya library near here in Kasaragod district and local people.
A canopy had been put in place with floral decoration near the scared grove, and tables and chairs neatly arranged to welcome the monkeys. The Onam sadya was served on plantain leaves and anyone would feel a twinge of envy over the spread.
Chalil Manika amma, who had been daily feeding the monkeys for the past two decades, first served salt-less rice for them. When Manika amma called out, the monkeys came in troops to the cheers of people, including women and children, who had gathered to witness the great feast.
Close to 10 various dishes made of banana, cucumber, carrot, beet root, water melon, pineapple, jackfruit, guava and sapota were served to the delight of monkeys. The monkeys devoured the sadya in no time though initially they were shy because of the huge crowd. As part of the green protocol, water was served in steel glasses. The Onam sadya is served on Avittam day, a day after Thiruvonam, and the annual feast for the monkeys had been going on for the past 12 years.
The feast was organized under the aegis of library president P V Prabhakaran, secretary P Venugopalan, panchayat member V K Karunakaran, 'Balavedi' convenor M Babu, and green activists Anand Pekkadam, Arya M Babu and V Fidal.
Thirty out of the forty monkeys in the region partook of the sadya held on September 12. The decision to feed the monkeys was taken as it was found that their numbers were below 10 as per a study conducted by the library and Thrissur zoo. After that the monkey population increased in the region.