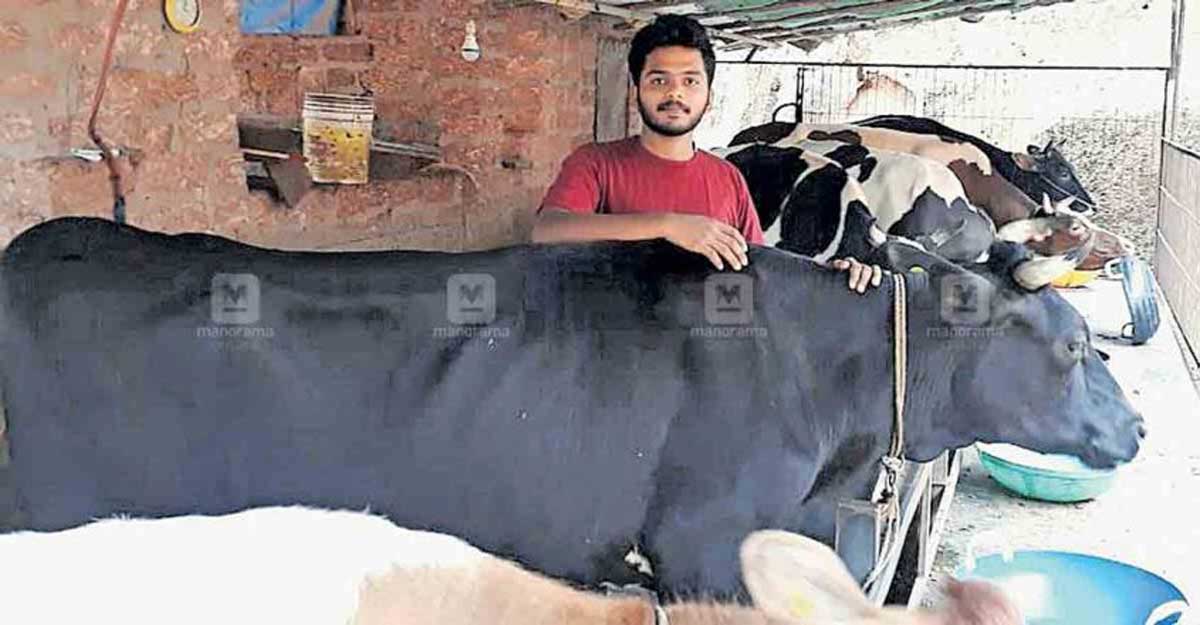 Bovikanam: There were a lot of people who frowned when a young man took to dairy farming after completing his bachelor's in business management (BBM). That, however, did not deter 20-year-old Vaishakh, of Panoor in Muliyar, from going ahead with his plan.
Vaishakh applied the business lessons he learned in college to master the farming knowledge he had obtained through experience while growing up. He started with one cow; now there are six cows in his cattle shed. He now earns more than Rs 50,000 per month.
Vaishakh completed his BBM from St Aloysius College in Mangalore in 2018 with more than 60% marks. Born into a farming family, he was more interested in agriculture than in higher education. His decision was supported by his father Gopalakrishnan and mother Sumathi.
He started with a single HF breed cow. As he became successful, he bought more cows. He has six cows of HF and Jersey breeds and three cattle that have not reached the reproductive age.
Five of them give milk. He gets 50 litres of milk a day. Vaishakh said earlier he used to get up to 60 litres. He sells the milk to the dairy federation in Iriyanni. The milk that he gets in the evening is sold to about 30 nearby homes. The return on this is high, he said.
Vaishakh has cows that can produce up to 18 litres of milk a day. Apart from this, he also earns good income from the sale of cow dung powder.
He grows fodder grass in one acre of land. His plan is to increase the number of cows to 15.
As many who were his classmates sit at home idle having lost their jobs due to the COVID crisis, Vaishakh is looking to touch new heights of success as a reply to those who had initially doubted him.