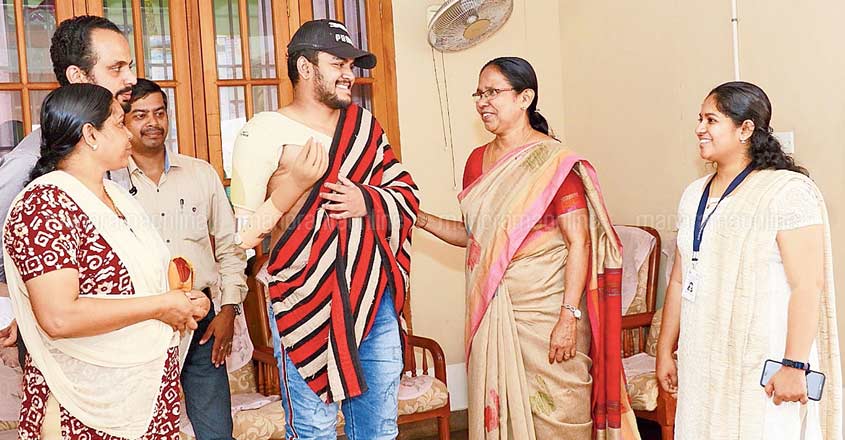 Kollam: Timely help will go a long way in benefitting the needy. Shibin, a 22-year-old man here, is looking forward to a new lease of life after an artificial arm was donated to him by the Kerala Social Security Mission (KSSM), a charitable society sponsored by the Social Justice Department as part of the We Care Project.
Shibin, a resident of Peroor near Thattarkonam in Kollam district, was presented a customised mechanical arm that costs around Rs. 4.37 lakh on Thursday by Kerala Health Minister K.K.Shailaja in the presence of Mohammed Asheel,  KSSM Executive Director,  at his residence.  
Shailaja pointed out that it was former Chief Minister Oommen Chandy who raised the matter with her.  
The customised arm with electronic controls can imitate all movements of the arm, hand and even fingers including those required to bend and hold objects. 
With the electronic arm, Shibin is looking forward to revive his lost dreams of supporting his widowed mother, Sindhu Beevi, and sister as well as that of playing guitar, his passion.  
He is also getting ready to appear for the examinations that he had missed out and also planning to start preparing for the P.S.C. examinations, which was also abandoned after the accident. 
The youth had lost his right arm in an accident at Cherthala last May. He was pillion riding on a motorcycle with his friend when the accident occurred. 
Shibin, who was a third-year Electrical Diploma student at S.N. Polytechnic, Kottiyam, had not left his home since the accident.  
The family which had already lost Shibin's father, was in dire straits following his accident. Youth Congress activists came to their rescue by raising Shibin's case before the then Chief Minister Oommen Chandy.
The We Care Scheme, initiated by the KSSM,  provides a helping hand to the people facing extreme life situations. So far, more than 800 people have been provided with support under the scheme. It utilises government funds as well as private contributions.