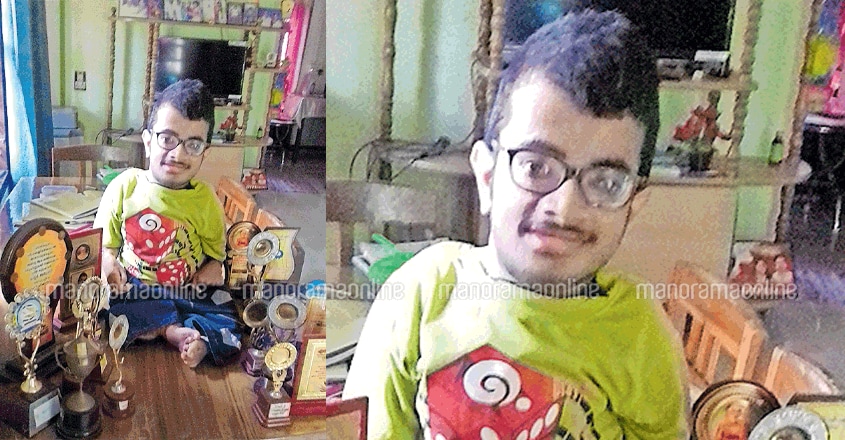 Karunagappally: When the schools reopen this year, 19-year-old Athul will be carried to Class 10 by his mother Rathy. In the classroom, three benches would be placed close together for Athul, fondly called Kannan, to lie down. In the school assembly, Athul would be reading the pledge to be repeated by other students.
Athul has big dreams. "The immediate one is to secure A Plus in all subjects in the Class 10 exams. In plus-two classes, I wish to study science and later become a scientist," he says.
Son of Asokan and Rathy, Athul lives at Athira Nivas, Aadinad North in Kulasekharapuram. Though he has severe growth problems and the body of an infant, Athul exhibits superior self-confidence. He has a congenital disease of the bones and is virtually bedridden. Till age 9, Athul never stepped out of his house. However, he learnt reading, writing and painting during this period.
The talents of the youngster, who was confined to his house, were identified by M Prakash, who was the BPO of Karunagappally BRC and N S Libu, a resource teacher. They gave Athul plenty of encouragement. Athul was located during a survey of BRC and the officials made necessary arrangements for him to study at his house itself.
Realising his academic potential, Athul was later admitted to Aadinad Govt UP School. The BRC provided a wheelchair to Athul to attend school. It was his mother Rathy's task to accompany him to the classroom.
Athul soon excelled in curricular as well as extracurricular activities. From Class 8, he has been studying in Clappana SV HSS where he goes in the school bus. But Rathy still accompanies her son.
In the classroom, Athul lies down and learns the lessons. His mother and teachers give him special attention. Till the classes end, Rathy would be by Athul's side.
The Karunagappally BRC has produced two documentaries on Athul.
Athul has a sister, Athira.