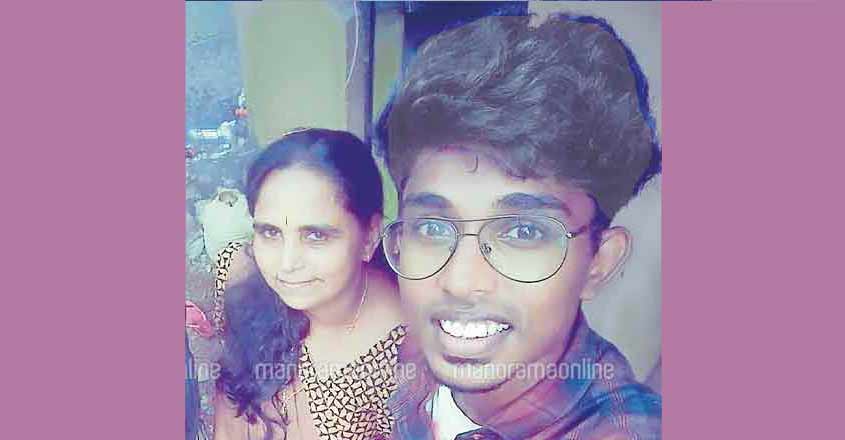 Kollam: "It is my mother's wedding..." Gokul Sreedhar posted on his Facebook page. He also had a word of caution for naysayers who may look down upon him in disdain.
"Please don't look at the event with suspicion and hatred. Even if you do, no one here would be ashamed," he said.
A native of Kottiyam in Kerala's Kollam district, 23-year-old Gokul posted wishes to his mother on her second marriage on social media platforms.
Gokul was studying in class 10, when his parents got divorced. His mother Mini has spent her life taking care of her only son since then. She was left with nothing but grief after her tumultuous first marriage. Mini, a teacher, had to let go off her job due to family feuds in 2004. She had to stay at relatives' houses at the time.
She eventually shifted to a house as alimony in the divorce. Gokul's father took care of his studies, but the rest of the expenses fell on Mini. Her job as the librarian fetched her a meagre salary.
"I was scared that by the time I find a job after my studies, my mother would be left all alone at the home. I always wanted my mother to have a companion. But she would never hear of it. Sometime ago, a proposal came with the help of friends from the library council," Gokul recounted.
"Though initially my mother opposed to the proposal, she eventually agreed," Gokul, who is also the SFI area secretary, said.
Retired colonel Venu, a Thodupuzha native, married Mini. Gokul is gearing up for his new job after completing BTech.
Excerpts from Gokul's FB post
"I pondered for a long time before putting up such a post. Many individuals in our society still cannot accept the concept of second marriage."
"She is the one woman who dedicated her entire life to me. She had undergone a lot during her previous marriage. When I saw her bleeding after being hit on the head, I had asked her – 'Why are you suffering like this?'
I still remember her precious words, 'I am living for you. I am willing to endure more for you.' "When I left that house holding on to my mother's hand, I dreamt of this moment, decided I'd make it happen."