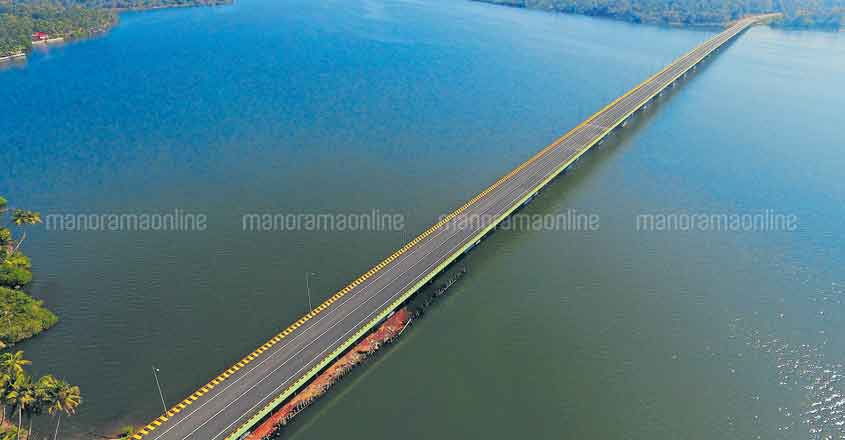 Anchalummodu: Everyone had eagerly looked forward to the opening of the Kollam Bypass, which was built to ease the travel woes of motorists in the district. However, in a short time since the stretch was inaugurated with much fanfare, speeding and carelessness have made it a death trap. Several lives have already been lost and more people injured in accidents on the bypass. A few days ago, the escort vehicle of senior politician and Administrative Reforms Commission Chairman V S Achuthanandan was involved in an accident. Two scooter riders, including a policeman, were injured in the incident.
The area where the biggest risk of accidents exists is between Kureepuzha and Kallumthazham.
The authorities agree that speeding is the main cause of the mishaps, but they have put in place no arrangements to check the violation. Another reason for the accidents is the lack of service roads parallel to the Bypass. With 57 side roads joining the Bypass at various points, accidents are only waiting to take place.
Most of the collisions so far involved cars and two-wheelers. Some pedestrians also lost their lives after being hit by cars.
Dangerous walk
Many pedestrians use the bridges along the Bypass even though no footpaths are provided. They also enjoy the scenery of the bridges. Women fisherfolk from Kureepuzha also walk along the bridge to Kavanad regularly to sell fish. Some motorists stop their vehicles on the bridges as the stunning views of the backwaters are too tempting. All these contribute to accidents.
No speed warning
The authorities are eager to coach drivers at traffic signals and junctions but they have failed to set up even a single signboard regarding the speed limit on the Bypass. Worse, surveillance cameras to detect speed violations too are absent along the stretch. This helps motorists race to whatever speed they wish, increasing the chances of mishaps.
Most cars passing the Kureepuzha bridge towards Kadavoor and travelling between Kadavoor signal and Mangad bridge touch speeds of above 100 kmph. Often, these cars engage in dangerous overtaking violating all road rules on the bridges.
Vehicles belonging to various ministers and even the police cross the speed limits on the Bypass.
Missing streetlights
When the Bypass work was progressing, the authorities had promised to install streetlights all along the stretch. However, when it was finally opened to the public, the lights appeared only on the bridges. Lack of streetlights at the points where minor roads join the Bypass is another main cause of mishaps. According to the officials of the Kerala Public Works Department, streetlights would be set up as soon as the funds for this are sanctioned by the Central Government.'