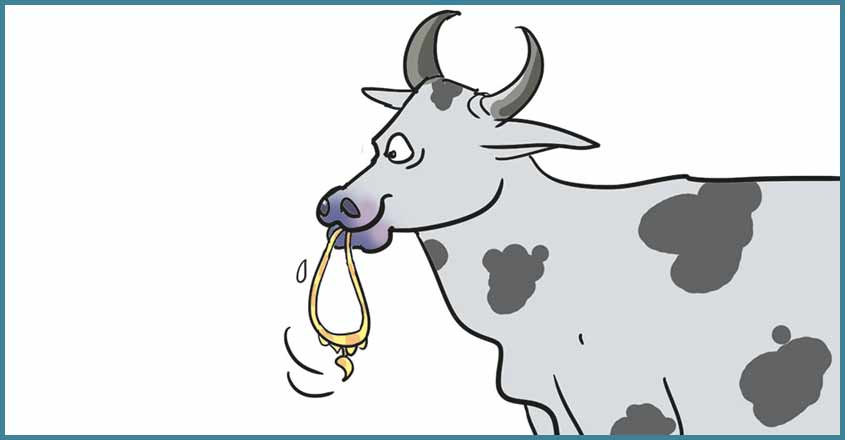 Chadayamangalam (Kollam): A gold chain, which went missing from Thudayanoor of Kollam district two years ago, has been recovered from cow dung at Chadayamangalam.
The chain weighing five sovereigns has been discovered almost 11 kms away from the place of 'theft'. The 'culprit' cow is yet to be traced in this mysterious case devoid of witnesses!
Teacher couple Shuja ul-Mulk and wife Shahina hailing from Chadayamangalam town were taken by surprise the other day when they discovered a gold chain in the cow dung purchased for agricultural purposes.
A Karavaloor inhabitant Sreedharan had supplied the cow dung to them almost six months ago. It was used months later on June 5, only to reveal a couple of surprise ingredients - a mangalsutra and chain.
The name 'Ilyas' engraved on the mangalsutra was their first clue. The determined couple started an active hunt for the gold's owner via social media. Their efforts were not in vain. Thudayanoor Thekil inhabitant Ilyas finally approached them with an interesting tale to offer.
Ilyas had lost the precious chain under mysterious circumstances almost two years ago. Though suspicious of the cow initially, his doubts were unfounded. The cow was eventually sold off. The animal, which changed several hands thereafter, has not been traced yet.
After verifying the owner's identity, the teacher couple is now preparing to hand over the rare find. The handover will take place in the presence of the police in the coming days.