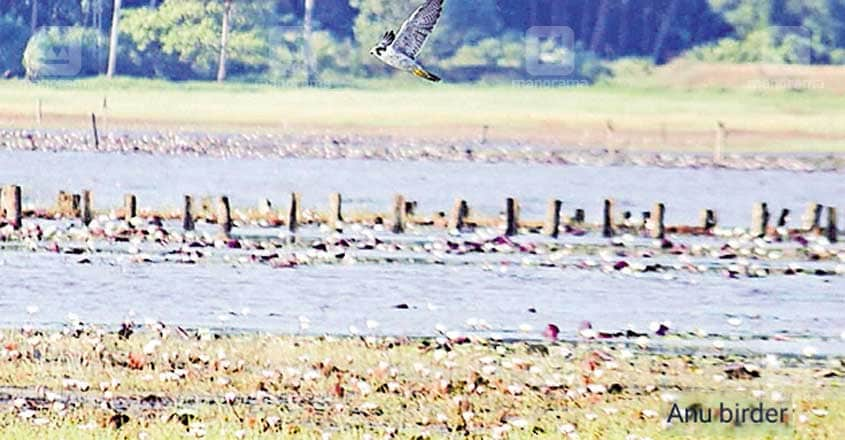 Kollam: The world's fastest bird has been reportedly spotted at Polachira, a favourite destination for migratory birds in Chathannoor area of this southern Kerala district.
Peregrine falcon, one among the world's most common birds of prey, can dive at a speed of 389 kmph, the fastest movement by any animal of any sort. Prior to executing the dive at the record speed, the bird soars to a great height.
Interestingly, it is left far behind by the spine-tailed swift, an Indian bird, while flying in the level path. Studies point out that the peregrine falcon could be placed only 10th in the top-list of fastest flying birds. The swift (Hirundapus caudacutus) has been found clocking more than 160 km per hour to head this list.
The bird is, in fact, the fastest in the animal kingdom. (Cheetah, the fastest land animal, has been found speed between 109.4 km/h and 120.7 km/h.)
Spotted by bird-watcher

The bird's photographs have been clicked by bird-watcher Anu John. This is likely the first time a photograph of the bird could be shot in the district.

Anu, a member of the Kollam Birding Battalion, was watching birds when he unexpectedly spotted the bird at 9.30 am on Tuesday. He heard a sound similar to a gunshot and the bird that was found hit and falling was snapped up by the peregrine falcon.
The peregrine falcon is also known as missile bird. It was the first time that Anu, who has photographed more than 200 birds, came across a peregrine falcon.
In south Kerala, majority migratory birds stop over at Polachira. More than 150 types of birds have been spotted here, said Anu.
Know the bird

Peregrine falcon uses its speed to kill other birds mid-air. Rock doves are its favourite prey. Occasionally, it also preys on mammals. It observes its prey from a tall building or an open space. It can identify its prey on land from a distance of around one kilometre. The pointed and swept-back wings help the bird pick up speed.

The more a  peregrine falcon spreads its wings, more speed it achieves. Once it spots its prey, it increases its speed, pulls its wings back and dives like a missile to snatch its prey. 
Female peregrine falcons are larger in size than males.