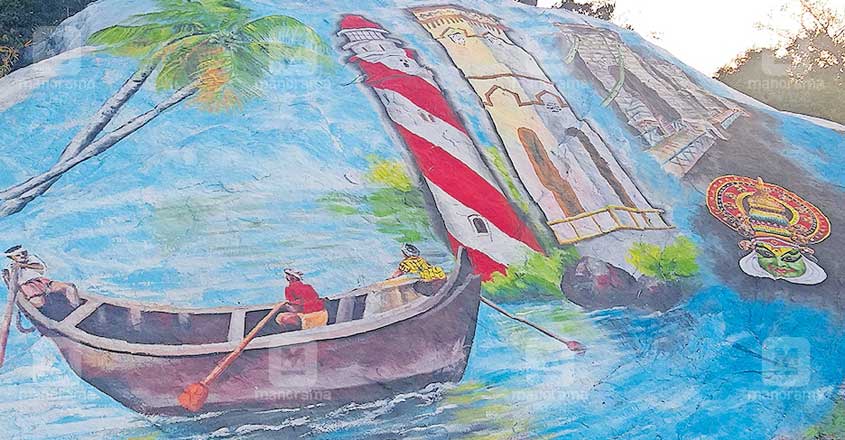 Ayoor: Kerala has a long way to go to before an effective solid waste management system is put in place. Now residents have to dispose of garbage in their own plots or as many do dump it elsewhere, creating trouble for others as had happened for the public at Cheruvakkal in Elamadu panchayat in Kollam district. After a creative initiative by local youth, now a pleasing sight awaits visitors at the erstwhile garbage dump located on the side of the Ayoor–Ambalamkunnu Road.
Till a few weeks ago, garbage used to be dumped regularly over a rocky outcrop, thus spreading nauseating smell all around. The Cheruvakkal rock, as it is known, was littered with liquor bottles and slaughterhouse waste till recently. However, after a group of local youths transformed the rock into a piece of art even tourists arrive to behold the sight.
The transformation happened after the young members of the Malarani Arts and Sports Club started removing the garbage. As the youth felt that they needed to implement another plan to permanently end the garbage menace, it was decided to create paintings on the rock and within no time a new tourist attraction was born out of the waste dump.
The Cheruvakkal rock now resembles the Anniyan* rock at Sundarapandiapuram in Tamil Nadu with beautiful figures etched on its face. It flaunts paintings of various landmarks in Kollam district. They include the Clock Tower in Kollam city, the lighthouse at Thangassery, the Jatayu bird sculpture, the image of a Kathakali dancer and a picture of the late Malayalam film actor Jayan who is a native of the district.
Other paintings show the fisherfolk who became rescuers during the severe floods witnessed by Kerala in 2018 and the majestic elephant Thrikkadavoor Sivaraju. Some other artworks are still taking shape. All the paintings have been created by artist Joy Kottarakkara.
After tasting success, the youths have initiated measures to put up seating facilities for visitors, build steps to climb the rock and install handrails. These activities are being carried out by an enthusiastic team of club office-bearers who include Mithun Mohan, Lillik Syam, Ajith Murali, Rejimon, Jeyson, Arun Ganesh and Suresh.
* A row of rocks with images of film stars became popular after it was shown in the 2005 Vikram film 'Anniyan'.