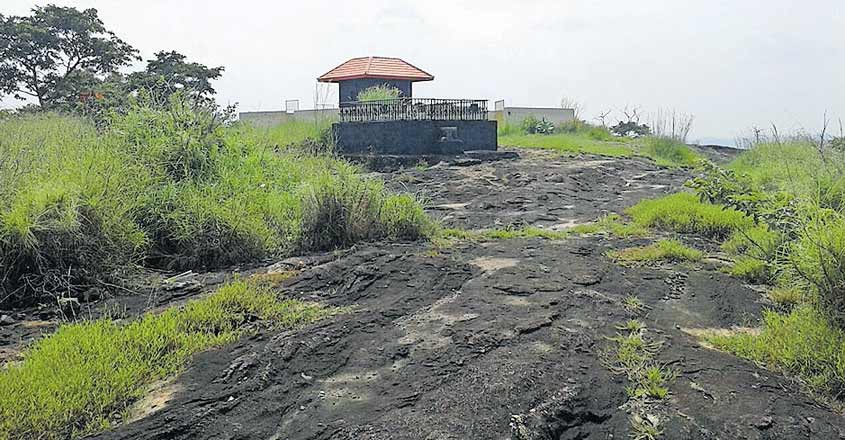 Ayoor: Local people have strongly resisted the quarry mafia's move to target Ayiravilly rock at Cheriyavelinalloor in Kerala's Kollam district.
The moolasthanam of the centuries-old Ayiravilly Temple and the Vana Durga temple are both situated at the top of the rock. Therefore, the villagers and the devotees demand the scraping of any proposal for mining of the rock. Many local shrines and a natural spring exist here.
Ayiravilly represents a single rock, occupying 40 acres of area at survey number 130 in block number 27, Elamad village, in the district.
The quarry mafia has already been active in the region. Quarrying to huge depths has destroyed the ecology of the region, allege the local people. The number of cancer patients has reportedly shot up.
Ayiravilly is the only remaining rock in the vicinity. The quarrying lobby targeted it many times in the recent past, but authorities blocked the attempts.
For centuries, the temple festival at Ayiravilly takes place with the ceremonial procession from the moolasthanam atop the rock. The two shrines are still worshipped. One side of the steep rock rises to a height in kilometres. This is the primary target of the private quarries.
A former district collector had submitted a report in favour of protecting the temple. The current attempts at quarrying are in violation of this finding. Local people demand that the lands issued by the government for agriculture must be recovered from the mining mafia. The temple trustees are set to begin protests if the quarrying that will destroy the local ecosystem and desecrate the beliefs of devotees is not stopped.