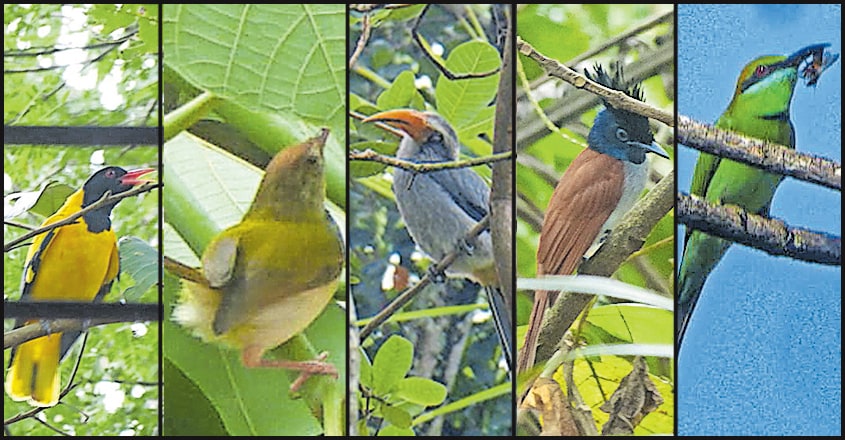 Kottarakkara: As the COVID-19 lockdown keeps people indoors, several of the wild animals and birds have reclaimed their space in nature.
Malabar hornbill, Indian paradise flycatcher, racket-tailed drongo, ash hornbill, black foot red oriole, common tailorbird, and green bee-eater were among the birds seen in the eastern region of Kollam district.
These birds were once a common presence in villages. However, they are now mostly seen deep inside the forest.
Nature lovers point out there are several reasons that brought back these flock of birds to human habitation areas.
Air, sound and water pollution have reduced at a significant rate after the 21-day nationwide lockdown was imposed to contain the COVID-19.
The absence of crowds has prompted the birds to return to their old habitats, pointed out Dr Jean Jose, an assistant Zoology professor at St Gregorios College in Kottarakkara. He is also the district coordinator of Birds Club International.
Regina, a student at the St Gregorios College, captured the photos of several birds in her area. A member of the college birds' club, she took the photos while out bird-watching near her house premises.
Final year BSc Zoology students Sreevijay, Al Asim, Regina, Geethu Prasannan, Anu Saji and Mubeena are also engaged in bird-watching these days.
National Award-winning film director Jayaraj was the founder of this club.
There were reports of wild animals spotted along deserted roads in various parts of the country after the lockdown was imposed. A small Indian civet was also found walking along the road in Kozhikode recently.