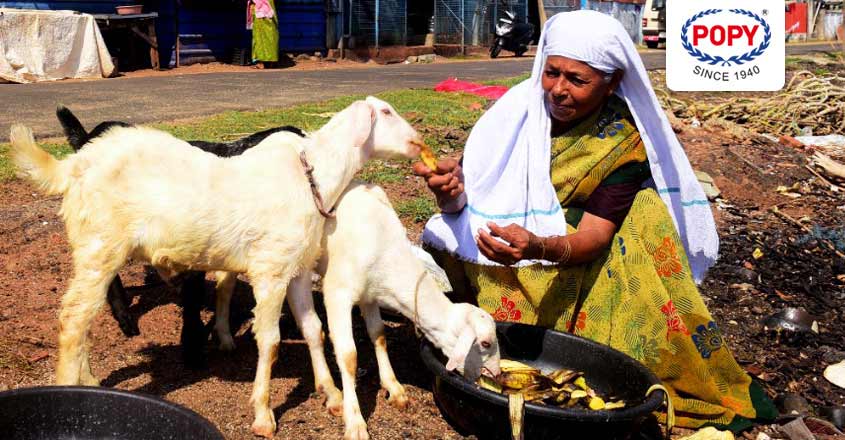 Kollam: She watches the press meets of Kerala Chief Minister Pinarayi Vijayan, giving updates on COVID-19 every day. Ever since she heard of children donating their Vishu Kaineetam (money given by elders during the festival) to the relief fund, Subaida too wanted to make a contribution.
But the woman, who made a living by running a tea shop, was struggling to make both ends meet. Finally, she sold her goats and donated the money to the Kerala Chief Minister's Disaster Relief Fund.
Subaida from Kollam handed over Rs 5,510 to district Collector B Abdul Nasser the other day.
Subaida got Rs 12,000 by selling her goats. She used Rs 5,000 to pay up rent dues and Rs 2,000 for paying the current charges.
Her tea shop was also hit by the lockdown. She lives with her husband Abdul Salam, who has undergone surgery for heart ailment. Her husband and ailing brother cannot do much work in the shop. Her three children have been married off and reside at Mundakkal.
Her husband backed Subaida's decision to make contributions. Thus, they decided to sell off two of their goats. Despite losing the goats, Subaida is happy that she could make her contribution.
CM cites Subaida's noble gesture
CM Pinarayi had mentioned Subaida's noble gesture during the press meet the other day.
The CM also mentioned the children who donated their Vishu kaineetam and class nine student Adarsh, who has been contributing to the relief fund since he was in class V.
"An elderly woman had stopped a passing police jeep and gave her pension money. Some gave the money they earned by selling black pepper. Patients at a hospital forsake their special meal and contributed that amount. All these people did not make the contributions while expecting something in return," the CM pointed out.
While citing these noble acts, the CM criticised the action by some teachers, who burnt the government order on salary cut.
"The six-day salary for five months were sought as the government is in severe financial crisis. But some people are against this. This is the worst kind of protest. Those who are raising a banter of protest should remember that the public, who are also suffering due to the lockdown, has been supporting us," the CM said.