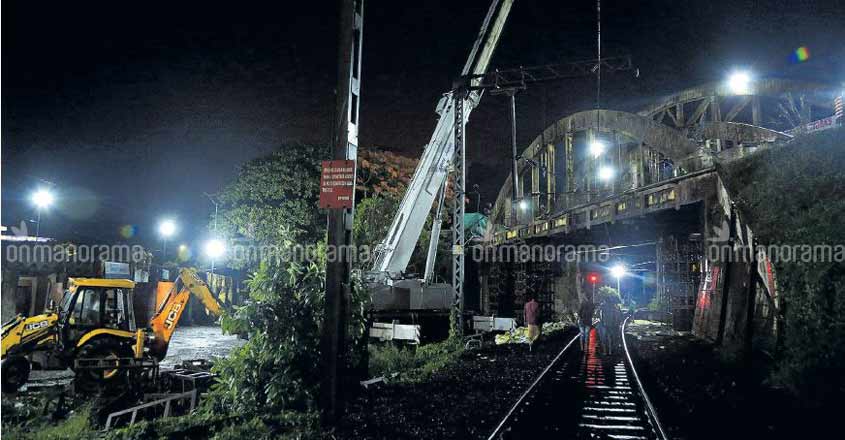 Kottayam: Measures to bring down old bridge at Nagampadam have begun. Electric line was disengaged yesterday night.
The bridge will be sawed off in 10 stages. A crane was brought yesterday and rails covered to avoid damage. All services on Kottayam line have been suspended until 12.40 am tomorrow (Sunday).
Five express trains and all passenger trains have been cancelled. 24 long-distance trains through Kottayam have been diverted through Alappuzha.
Seven passenger and memu services on Kottayam-Alappuzha route will be suspended on Sunday. Other passenger trains may also be delayed.
The work on the old bridge will not affect traffic on the new one. An earlier attempt to implode the bridge had failed.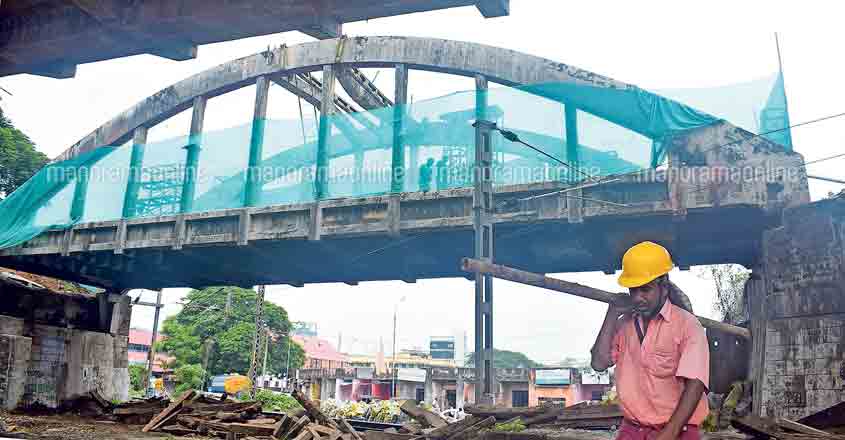 More KSRTC services
More KSRTC services will be introduced until May 27 in the wake of cancellation of train services. There will be more buses on Thiruvananthapuram-Thrissur route through Kottayam and Alappuzha. Buses will start from Thiruvananthapuram railway station at the same start time of cancelled trains.
Control room numbers: KSRTC – 9447071021, 0471-246399
Passenger trains cancelled on Sunday
* 66307 – Ernakulam-Kollam Memu
* 56300 – Kollam-Alappuzha Passenger
* 56302 – Alappuzha-Kollam Passenger
* 56380 – Kayamkulam-Ernakulam Passenger
* 56393 – Kottayam-Kollam Passenger
* 56394 – Kollam-Kottayam Passenger