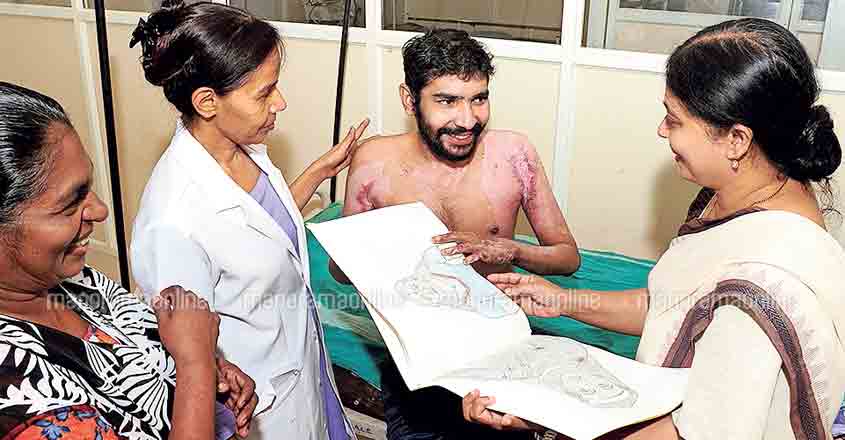 Kottayam: The rehabilitation of burn victims is difficult as they need to be handled with care. However, the medical staff at the District General Hospital, Kottayam, took up this challenge gracefully and brought a badly burned youth back to life.
Praveen, a burn victim who was on the verge of death after sustaining 85 per cent of burns, was brought back to life by the dedicated efforts of the hospital staff.
A paver of interlock bricks, he had sustained the burn on January 3. He was at first taken to Medical College Hospital, Kottayam from where he was taken to Medical College Hospital, Thiruvananthapuram, where he spent three months. He was discharged from the Medical College with the advice to get plastic surgery done. However, many hospitals he had approached turned him down as the case was too severe.
On reaching the General Hospital, Kottayam, the doctors led by Dr Nevin, were ready to take up the challenge and admitted him. At first he had to stay in the corridors of the Burns Unit, but was soon shifted to a room after the intervention of Hospital Superintendent Dr Bindukumari and Dr Mary Kalliyath Verghese of the Communicable Diseases Department.
A room was specially arranged for him with air-conditioning, and Shyla, an expert nurse was assigned to care of him. The entire medical team including the house surgeons coming on rounds, supported him mentally and encouraged. Slowly, the burnt skin slowly started to grow back.
Now, Praveen is busy making drawings upon papers stuck on the walls of the hospital room. He has compiled a book of the drawings. Praveen dreams of preparing a feast by himself and serving it to the doctors and medical staff on his birthday in September.
Praveen is the son of Babu M Nair and Lathika of Chingavanam, Kottayam.