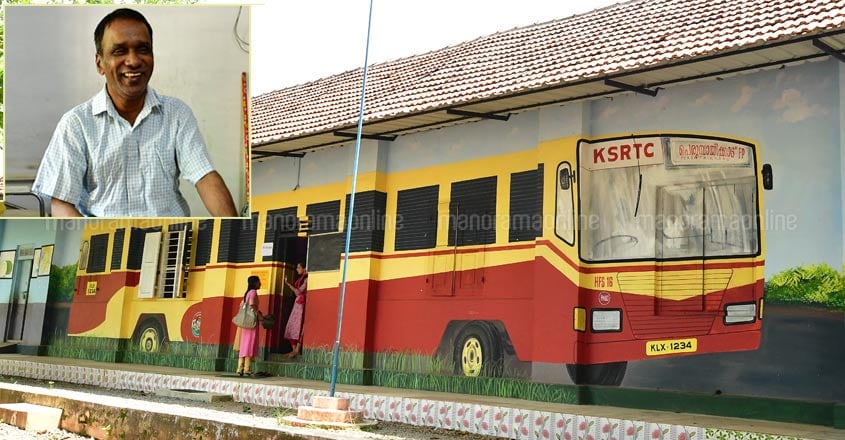 Kottayam: When schools reopened on Thursday, students of Kumaranallur Perumbayikad Holy Family L P School were disappointed seeing the incomplete 'fast passenger bus' in front of their school.
There are unfinished pictures of dinosaurs and other attractions inside. The artist, who was supposed to complete the paintings, had been bedridden for the last one year.
Headmistress Sister Lia wanted to decorate the school with attractive paintings before the school reopening day festival in 2018. She entrusted Anil Joseph with the task. Anil was an experienced hand, having done such work for several churches and schools. He turned the school building into a KSRTC bus. It was named Perumbayikad Fast passenger, parked near a milestone.
While Anil was busy with the project in the school during May 2018, he got a call from Delhi.
It was to remind him of an assignment that he had earlier agreed to carry out.
The work involved creating art inside the St Sebastian church at Dilshad Garden. Anil told Sister Liya that he would complete the work in Delhi within a few days and resume the painting of the bus in 10 days.
Anil left for Delhi on June 2.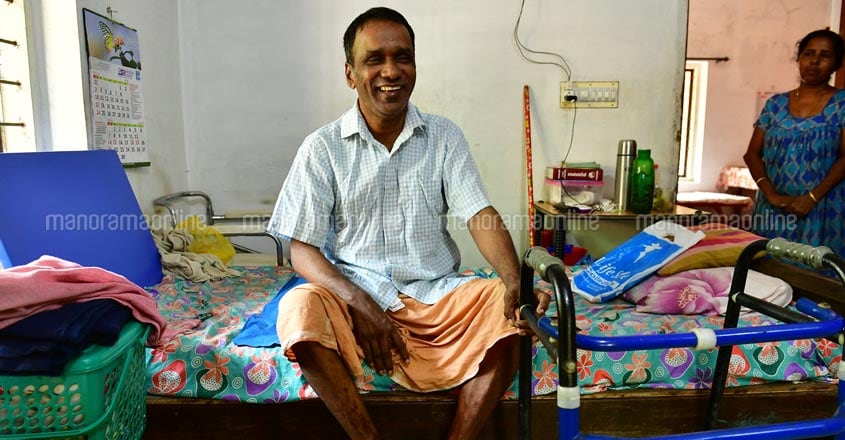 In Delhi, Anil first did the painting behind the altar. He then used a ladder to paint the top portion on June 9 when the roof of the church collapsed and Anil fell from a height of 22 feet.
He was rushed to a private hospital and then to the medical college. There were injuries to his vertebral column and spinal cord.
In August last year, Anil was shifted to Kottayam Medical College hospital and a surgery was performed on him. Anil can now get up and walk a little with some help.
Anil's family was earlier totally dependent on him. They live at Kuzhikattil house, Kurumulloor in Moozhikulangara.
His wife Sobhana now works in the cleaning section of S H Medical Centre. She is on night duty every day after Anil's mishap.
Their son Sajith is training to be an interior designer while daughter Sajna has completed dental technician course and is a trainee.
Anil still dreams a lot. He wants to resume painting at religious places and schools.
The first task should of course be finishing the work of the Perumbayikad Fast passenger.
Anil now hopes to finish that before the school reopening day festival in June 2020.