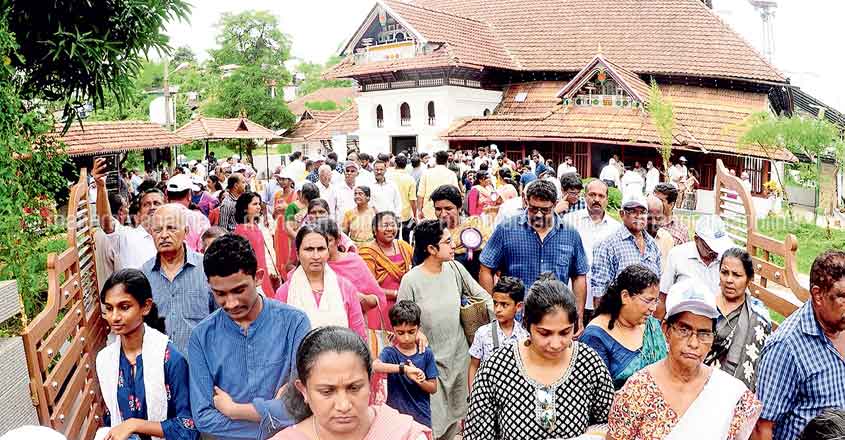 Kottayam: History and cultural enthusiasts assembled to get a first-hand knowledge of the rich heritage of present-day Kottayam town in Kerala. Understanding and appreciating the legacies of the land, they walked together visiting the unique geographical features, heritage buildings and centuries-old places of worship which had great significance in the social and cultural life of Kottayam, the erstwhile administrative capital of the Thekkumkoor kingdom.
Around 500 people took part in the Heritage Walk organised by the Nattukoottam group of the Kottayam Cheriyapally (St. Mary's Orthodox Syrian Church) in association with the Thaliyil Mahadeva temple advisory committee, Thazhathangadi Muslim Jamaath and Kottayam Valiyapally (Holy Virgin Mary Church).
Thiruvanchoor Radhakrishnan, MLA, flagged off the walk at Cheriyapally on Sunday.
The team first headed to the Mahadeva Temple at Thirunakkara in the heart of the town and spent around half-an-hour. Several artefacts, including the Mizhavu (a percussion instrument) used by Malayalam poet and performer Kunchan Nambiar, are safely protected here. The team then went on to Thazhathangadi Juma Masjid, where they got to view the teak pillars, intricate wood carvings and the ancient sun dial (nizhal kadikaram) used to note the prayer timings.
Their next stop was the Lourdes Forane Church. After viewing the ancient exhibits at the Mar Makil Museum at this church, they continued the walk.
The group, comprising children, youth and the elderly, then reached the Valiyapalli. They eagerly climbed up the stairs of the church. After getting to know more of the church and the Persian cross, they returned to Cheriyapally by afternoon.
Kottayam Nattukoottam secretary Pallikonam Rajeev explained in detail the specialties of each place to the team. The closing ceremony was inaugurated by Thekkumkoor Valiya Thamburan P N Ravi Varma Raja. Fr P A Philip of the Cheriyapally presided over the event.
Associate professor Dr Mathew Joseph Chengalavan of Jamia Millia Islamia University in Delhi, Thazhathangadi Juma Masjid Imam Hafiz Sirajuddin, Fr Yuhanon Baby, Kottayam Valiyapalli Vicar Fr Monayi K Philip, Cheriyapally Vicar Fr P A Philip, Thaliyil Mahadeva Temple advisory committee member P Raveendranath, municipal councillors Radhakrishnan Koikkal and Kunjumon K Mether also spoke at the event.