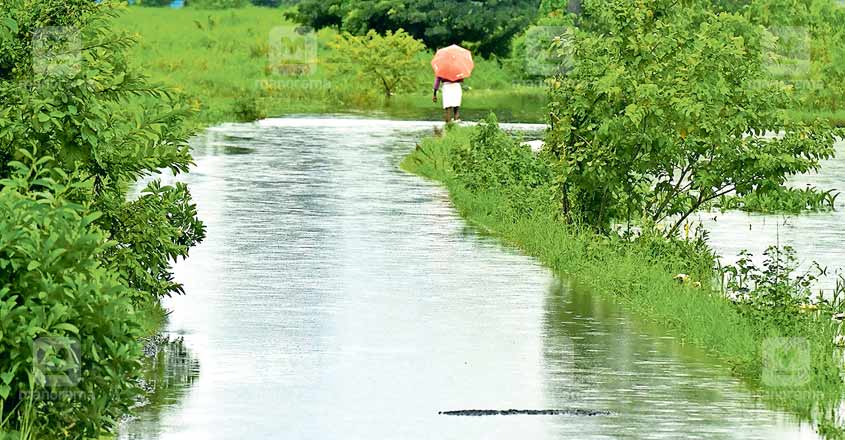 Kottayam: With intense rain, miseries have increased manifold. As the low-lying areas of Kottayam town have been inundated in heavy rainfall over the past few days, people have to put with immense hardships.
With the Kodimatha link road getting flooded, transportation to the Muppaikad locality has been hit. This road starts from the Erayilkadavu-Manipuzha Development Corridor.
People heading to Muppaikad have to now take the long route from the Diwan Kavala at Manipuzha. The residents of the Journalist Garden at Kodimatha too have been stranded. The low-lying region between the development corridor and the MC Road got inundated, causing flooding in the Journalist Garden area. The paddy fields of Muppaikad are also flooded.
As the rain intensified in the eastern regions over the past few days, urban areas are also getting flooded. Nattakom, Pallom, Mundothikadavu Road, Vadakummuttam, Valayilkadavu and Srambikadavu have all been inundated. People are apprehensive even though the water is yet to enter their homes.
Narrow lanes in the interiors of Thazhathangadi, the path near Karapuzha bridge, and narrow streets at Kummanam areas are all likely to get inundated. Though the rain water had entered the homes of those living at Parambuzha area, the water started receding on Monday.
Meanwhile, other parts of Kottayam district and elsewhere in the state have received torrential rains in the past week.