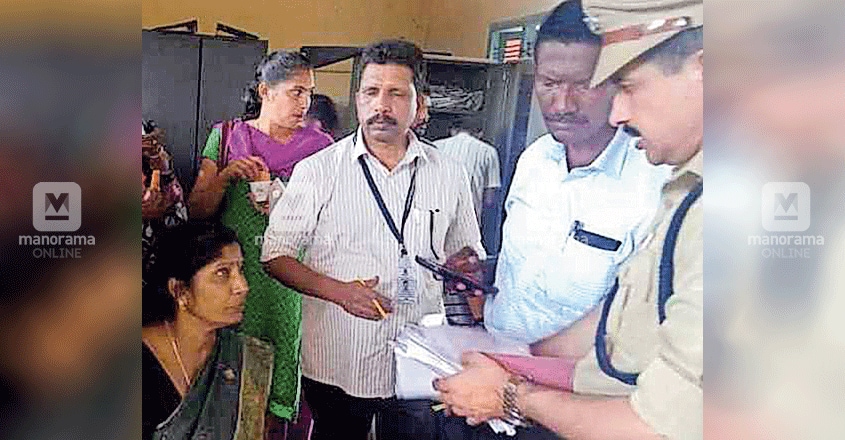 Changanassery: The Vigilance sleuths have arrested a woman agriculture field officer at Changanassery in Kerala's Kottayam district for taking Rs 25,000 as bribe for rectifying land survey record.
Vasanthakumari, a Kollam native, was arrested by a Vigilance team led by DySP N Rajan on Tuesday.
Apart from the bribe, the Vigilance team also seized unaccounted money worth Rs 55,000 from her. The sleuths also seized three phones and five SIM cards from her bag.
A probe revealed the Changanassery native's land was marked as agricultural land in the records. When he approached the agricultural office for changing it, Vasanthakumari sought a bribe of Rs 2 lakh, as per his complaint. However, when the land owner refused to give the money, he was told to give Rs 50,000 and that too in two instalments. Subsequently, the land owner approached the Vigilance.
As advised by the Vigilance sleuths, a relative of the complainant went to Vasanthakumari's office with currency notes laced with phenolphthalein powder. However, Vasanthakumari told him over the phone, "Don't come to office. Other staff would see."
Vasanthakumari them came down from the office on the first floor and took the money. Immediately, the Vigilance sleuths, who were waiting nearby, caught her red-handed. A check of the files conducted at the village office revealed irregularities.
Earlier too, there were complaints against Vasanthakumari. She has been reportedly seeking bribe for fudging land records. A voice clip in this regard was also circulated. The Vigilance had also recommended for a department-level inquiry against her.
The accused would be presented before the Vigilance court on Wednesday.
When she came to know that the land owner, also ran a bakery, she had asked him to bring two packets of rusk along with bribe. The owner's relative had also turned up with rusk!
Unauthorised aide too
A woman from Chettipuzha was also appointed at the agriculture office for helping Vasanthakumari. Her salary was reportedly given by her.
When the Vigilance gang reached the office, this woman aide was also present there. Files of the agriculture office were found at her house during a check.
When asked about the unaccounted money, Vasanthakumari claimed it was for paying her son's college fee. The Vigilance also found that some files were moved from the shelf and kept at another place.
Months ago, Vasanthakumari had courted controversy when she walked off a council meet. She exited the hall when she was asked to give an explanation for not regularly taking part in the civic meet.