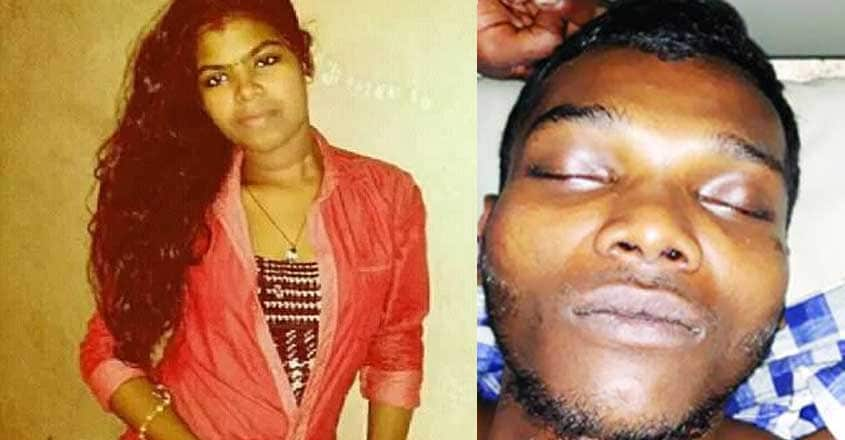 Karukachal: The autopsy of a young woman who died on Friday after her drug-addict husband thrashed her at her home here in Kerala's Kottayam district revealed the severity of the attack.
Fifty-six contusions were found on the body of 19-year-old Aswathy and her skull was broken, the autopsy report states.
Beating and injuries to head caused her death. Internal organs sustained injuries and broken ribs punctured her lungs, the report adds.
Subin (27) murdered his wife Aswathy by hitting on her head under the influence of marijuana, Karukachal police had said earlier.
The incident happened at 11:30 pm on Thursday after a spat at their rented house at Kavunkalpadi in Karukachal's Mukkada Colony area.
As per the police report, Subin and Aswathy had an altercation at night, following which the former forcefully hit his wife's head on the wall repeatedly. Besides, he also struck her on the head using a firewood. Subin then dragged Aswathy, who had become unconscious, to the bathroom and poured water over her head. Meanwhile, the neighbours who heard the commotion had informed the Karukachal police.
Subin was reportedly under the influence of drugs that day.
Aswathy was taken to the Kottayam Medical College Hospital in an ambulance after the police arrived. Aswathy died on 6:45am on Friday while she was still under treatment.
Her body was released to relatives after autopsy at the Kottayam Medical College Hospital on Friday and the funeral was held on Saturday.
Aswathy originally belonged to Ajesh Bhavan, Uthimoodu, in Ranni in neighbouring Pathanamthitta district.
Subin had reportedly turned violent after seeing the police and was forced into the jeep after he was arrested. He even broke the rear window of the police jeep by banging it with his head. An injured Subin has been admitted to the Medical College Hospital. An agitated Subin even tried to attack doctors.
Subin has many criminal cases against him including POCSO charges and those of theft at Ranni, Chingavanam and Changanassery stations, said police.
He had once thrashed Aswathy's mother Kunjumol. Her broken arms had to be inserted with an iron rod last year.
The couple apparently had a love marriage. Aswathy was 17 when she left home to marry Subin two years ago and live at their house at Chingavanam, near Kottayam town.
She was subjected to frequent physical abuse, said neighbours at Kavunkalpadi.