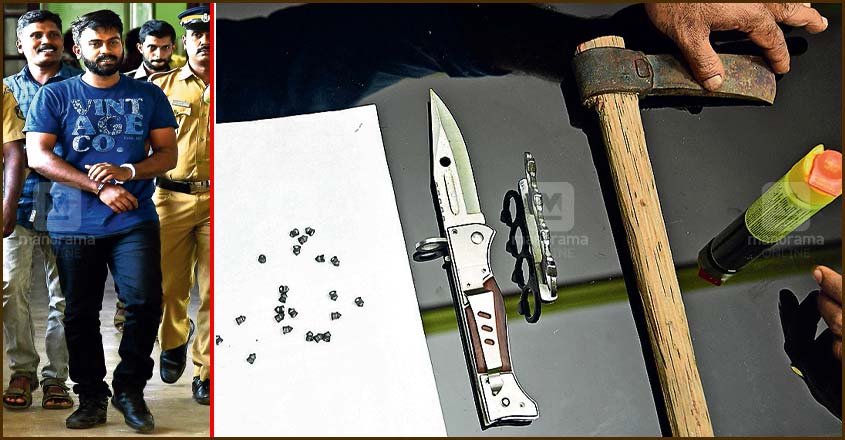 Kottayam: The main conspirator behind the recent heist at a courier firm in Kottayam town has been identified as Jais Mon, alias Alotty, a notorious gangster with several fans. He is also accused in 19 criminal cases, including stabbing to death a lodge manager in the town years ago.
The resident of Panampalam was arrested soon after his aides decamped with Rs 1 lakh after using pepper spray on the staff at the outlet. Alotty could be charged with the stringent Kerala Anti-Social Activities (Prevention) Act (KAAPA) soon, police said.
Assault weapons, including a foreign-made knife, an axe and 32 cartridges, have been seized from Alotty. The police also seized six ATM cards from him. Some of these bank accounts have lakhs of rupees as deposits. The goon makes money through heists and quotations. He even owns foreign guns, the police said.
Criminals Badusha, 20, and Akhil T Gopi, 21, had robbed the courier shop on September 16. The police nabbed the accused and on questioning them got more information about the main conspirator.
Prior to the heist Alotty had bought foreign-made weapons via online shopping. As he went to the courier shop to take the products he had ordered online, he chanced upon the staff counting a good number of currencies and soon he plotted the heist.
Alotty also helped the accused to escape.
He had recently abducted a member of a rival gang and shot a video of him holding drugs. Alotty forced him to say that the drugs were given by another ringleader.
District police chief P S Sabu led the probe team, which included SySP R Sreekumar, West CI M J Arun, ASI T Sreejith, Additional ASI P N Ramesh, CPO P N Manoj, and K R Byju. The accused was presented in court and remanded.
Popular gangster
The police were stunned when they checked Alotty's phone. The accused has several fans group and is active on social media groups.
Youths have put up photos on WhatsApp groups with Alotty's names tattooed on them. Alotty also sends some of his fans for heist and execute crimes on behalf of others. They have nicknamed such operations as 'Alotty Sketch'. The goon also gets them out in bail in case of arrests.
The police have also received information about the gangs in the district from Alotty. It is well known a drug mafia is active in the district.