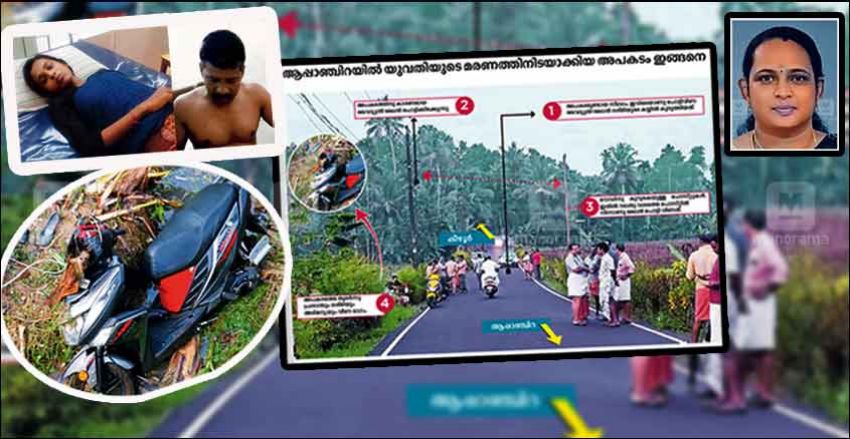 Kaduthuruthy: A woman who was riding pillion on a scooter died after a live electric wire snapped and fell on her. Her husband and their daughter suffered burn injuries.
The deceased was identified as Rashmi (35), wife of Kaduthuruthy Poozhikkol Ulladamkunnel Prashanth. She was working as a coordinator at a dental care centre in Muvattupuzha. Prashanth (40) and Abhimanya (17) suffered burn injuries on their hands and are under treatment at Muttuchira HGM Hospital.
The incident took place around 3.45 pm on Sunday near a transformer at Kalarikkalthazhe on the Appanchira-Keezhur road.
The family was returning to home at Poozhikol from Thalayolaparambu. It was drizzling at the time of the incident.
The overhead power cable across the road snapped and fell on them. Though Rashmi was rushed to a hospital, her life could not be saved. The cremation will be held on Monday at 3 pm. The couple has one more daughter -- Abhirami.
When the power cable fell on them, all the three fell into a water-logged paddy field some 10 feet below. In between, the power cable got entangled on Rashmi's hand. Prashanth and Abhimanya, however, fell onto a heap of soil on the field but Rashmi fell into the water. A local resident removed the fuse of the transformer and tried to rescue the trio.
According to preliminary enquiry, the cable broke because it was old. Besides, plantain trees had fallen on to the power cable in heavy rain and wind. The line could have broken because of this, said KSEB Kaduthuruthy section assistant engineer Sreejith Shreedhar.
"Even before we could know what happened, all of us were thrown into the paddy field. But Rashmi fell into water. I thought all of us would die," said Prashanth, who is yet to recover from the shock.
"Then I understood that it was electric shock. The cable was entangled on Rashmi's hand even then," he said.
A local resident, Vinod, who was witness to the incident, removed the fuse from the transformer and engaged in rescuing the three.
By this time, an auto that was passing by stopped. Its driver, Ratheesh, jumped into the field, helped pull out the three from the field and took them to the hospital.
Rashmi had got a job in the dental care centre three months ago. A Piramadam Ooramana native, Prashanth was living in his wife's house at Poozhikol. He is a carpenter.