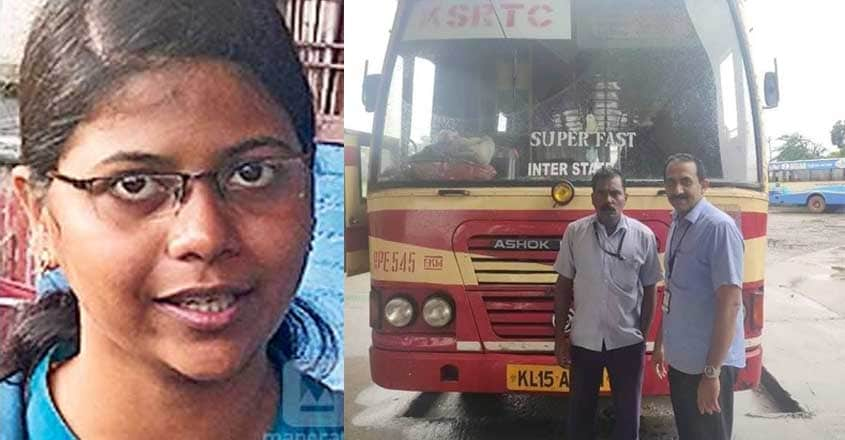 Kottayam: A noble gesture made by the crew of a Kerala State Road Transport Corporation (KSRTC) bus to stand guard to a lone woman passenger in the dead of the night has won accolades.
Kerala legislator P C George has lavished praises on the bus conductor P Shajudeen of Aluva and driver Dennis Xavier of Kumbalangi, who decided against leaving the young woman all alone in a deserted area. He applauded their selfless action, terming it as an exemplary behaviour.
The incident happened at Podimattom near Kanjirappally in Kottayam district on Tuesday.
P C George, the Poonjar MLA, posted about the incident that happened in his constituency on his Facebook page.
Elseena, daughter of Kannur natives Joseph and Eliyamma, had boarded the Ernakulam-Madurai bus to Podimattom. She reached the St Dominic College stop at Kanjirapally along the National Highway 183 after 11pm on Tuesday. The area was deserted and the shops were also shut on account of the traders' strike on Tuesday.
The bus also reached the destination 10 minutes ahead of its time. The bus conductor and driver then decided to wait till someone came to take the woman along. The bus, which was full of passengers, was stationed by the roadside for 15 minutes. The passengers too did not raise any protests.
An MPhil student with the Christ College in Bengaluru, Elseena had gone to Ernakulam as part of her research work. She had to be at the Marian College in Kuttikkanam by 9am on Wednesday. She then decided to stay over at a family friend's house and resume her journey the next day.
Family friend Dr Chackocan Njavally arrived in a car 15 minutes later and took the woman to his house. And the bus resumed its journey.