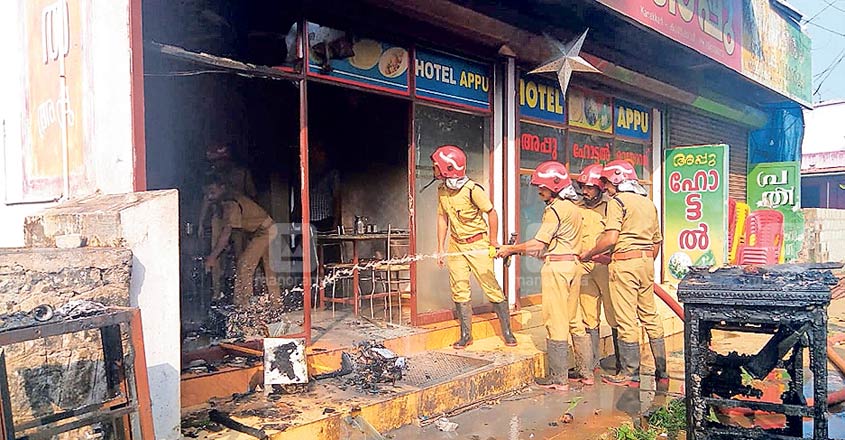 Kanakari (Ettumanoor): The attempt of a landlord to murder his tenant by setting fire to one of the two hotels run by the latter here in Kottayam district put the lives of a dozen-odd patrons in danger. Both the parties in dispute sustained burn injuries and police have registered a case of attempt to murder.
The incident took place after a dispute between the two over rent arrears of a hotel premises taken on rent by the tenant. Angry building owner Ponnumakkal Baby (70) set on fire another hotel run by the tenant Palathadathil Devassy (60) of Kothanaloor.
Both were admitted to the hospital with burn injuries. The condition of the two are reportedly stable.
Baby has been booked for attempt to murder.
Devassy has given a statement to the police accusing Baby of attempting to murder him. Baby denied involvement in the incident.
The attempt to set ablaze the hotel took place even while more than 10 patrons were having food at the place. Following, this the people present at the eatery ran to safety. The incident took place at Appus Hotel in Kanakari at 9 am on Saturday.
Raging dispute
Devassy had rented the other property belonging to Baby seven years ago. Devassy vacated the property about four weeks ago following a dispute over rent. But Devassy wanted Baby to give back the money spent by him for renovating the premises.
Devaassy claimed he had spent Rs 8 lakh for renovation. There was also a running dispute between the two for the past four weeks over the settlement of arrears of the rent. It is believed that Baby set on fire Appus Hotel run by Devassy to settle the score.
Fury let loose
Baby had arrived with a can of petrol to the restaurant in the morning. He then gave a letter to manager Maya who was sitting in the reception. Later, he allegedly poured petrol over Devassy and set him on fire. He also set fire to the interior of the restaurant.
Devassy ran to the kitchen after his body caught fire. Baby also received burns in the commotion.
As per eyewitness accounts the fire lasted for 10 minutes. All the employees including Maya are safe. The content of the letter was not known as it was completely destroyed in the fire.
Hotel appliances, furniture and electronic gadgets were completely destroyed in fire.
The fire was put out by a team from the Fire and Rescue Services who reached the spot.