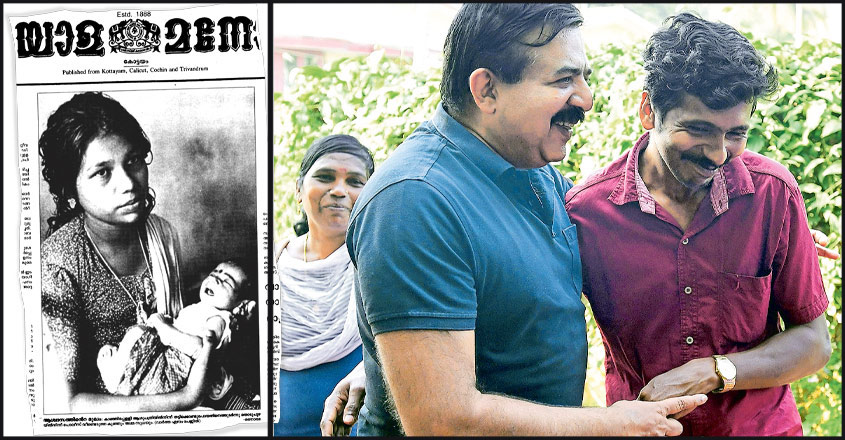 Kottayam: Police personnel are witness to incidents both horrific and touching. They may ponder over remarkable cases in their career especially after retirement. The former police chief of Kottayam district also reminisced about one such and recently tracked down the baby whose missing case he had handled 32 years ago.
The baby boy, named Sumesh, was stolen from the taluk hospital at Kanjirappally in 1987. N Ramachandran, who was the Sub-Inspector at Ponkunnam then, located his abductors, secured the baby and returned him to his family on the very second day he was lost.
Swift action by the police officer helped Sudha get back her six-month-old son, who was abducted. The grateful mother and her son met their saviour, N Ramachandran, the former police chief, here.
The spark

Ramachandran was reminded about the decades-old case when he recently read about a child abduction reported from a hospital at San Diego in America. He became curious about the whereabouts of the child he had traced. He then sought the help of Kanjirappally DySP J Santhosh Kumar. The police tracked down the family at Cheruvally in Kanjirappally itself and organised a meeting with Ramachandran.

Thus, Sudha and Sumesh went to Kottayam town to meet Ramacnahdran.
"This was my lost son. You gave him back to me. We will never forget you," an emotional Sudha told Ramachandran after the meeting at Thirunakkara locality, in the heart of the town.
The abduction and rescue

The former cop also explained to them in detail as to what happened then and how the two abductors were nabbed.

The accused were Karinkunnam natives Balan and Radhamani.
The child had gone missing during a power cut.
"Radhamani had taken money from a person by claiming that she was pregnant. She hoped to extort more money by showing the child," Ramachandran said.
"A hotel staff, Jabbar, grew suspicious after he noticed Radhamani giving pipe water to the baby. Would any mother give pipe water to her own baby? His suspicion helped us and we came to know that Radhamani and Balan had taken a bus to Karinkunnam. That is how we nabbed them," Ramachandran explained even while holding on to Sumesh's hand.
Sumesh is married to Neethu.
Ramachandran is the grandson of eminent Malayalam writer late Karur Neelakanta Pillai.