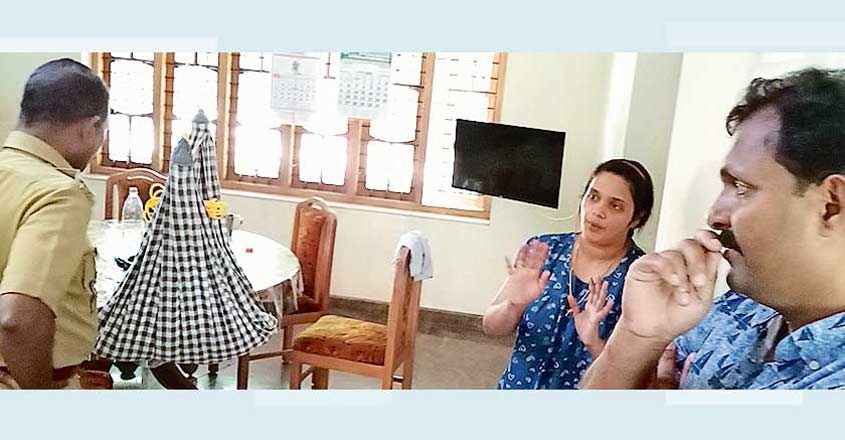 Kaduthuruthy: A gypsy woman's bid to abduct a two-month-old baby from the cradle failed after the alert mother raised an alarm.
The abduction attempt was reported from the house of Shibu-Nimmy couple at K S Puram near Kaduthuruthy in Kerala's Kottayam district around 11am on Sunday.
The nomad entered the house through the front door which was left open. As she reached near the cradle, Nimmy glanced through the window and saw the intruder standing close to her baby. After Nimmy raised an alarm, the woman fled.
Though the police and local people conducted searches for hours, the gypsy could not be located.
The cops said that the woman, who carried a cloth bundle, reached K S Puram from the Poovakode Road.
"My husband Shibu, elder child, and mother had gone to the church. I had put the baby to sleep at the hall by 10:45am as Shibu's father was sitting on the veranda. However, he went inside to lie down after some time. Meanwhile, I went to wash clothes outside," a startled Nimmy narrated.
"If I had not looked inside the room, I would have lost my baby," she heaved a sigh of relief.
"The front door was not closed. The windows were also left open. I kept checking the baby through the window. Then I suddenly saw a woman was standing right next to the baby in the hall. Screaming, I ran inside.
"The woman then ran out of the house. I followed. She jumped on to the fields and took flight. I immediately went back to the baby," she said.
Nimmy said that the woman was very tall and was wearing a nose ring.
"I have heard of such incidents. When it actually happened to me, I am shaken," Nimmy exclaimed.
The baby's baptism was held on Friday. Shibu and Nimmy had been living abroad.